I have the pleasure of reviewing Karen Tjebben's newest series Savage Security. Both books are filled with lots of action, suspense, and romance.
Blood Kiss (Savage Security – 1) by Karen Tjebben
Alisha Woods knew she was in trouble. The situation was progressing. The harmless flirtation had long past intriguing and now bordered on terrifying. She had to take action, go on the offensive against her stalker. And as she opened the door of Young Guns, she promised herself that she'd be ready when he came for her. She would survive.
Mike Lewis lived each day knowing that life could evaporate in a moment. Ghosts followed him, haunting his soul. He craved redemption, a chance to right the wrongs of his past. And when Alisha walked in, he recognized his chance at redemption. He would save her.
After everything Mike had done to prepare her, she thought she was ready. But as the blood spilled from her lips, Alisha's mind raced for what she could have done differently…
She should have listened to Mike.
Amazon     Barnes and Noble     Goodreads
My Review
5 stars
We start this book with Alisha Woods buying herself a gun to feel safe. Alisha has a stalker and has come to the conclusion that this will help keep her safe from him. While in the store Alisha meets Mike Lewis. Mike works in security and finds himself drawn to Alisha and offers to help her learn how to shoot. Then he learns her story and wants to help her. The two of them are attracted to each other and try to deny the feelings a first. But her stalker is not going to let her live without him.
This is an amazing story. You instantly get sucked in as Alisha is having a hard time just walking into the gun store let alone buying one. Learning about her stalking was the moment I was hooked and didn't care if I was up reading into the wee hours then having to go to work the next day. I loved Mike. He has his own personal drama that made him protective of Alisha, almost over bearing but with a reason.
I take self-defense classes and help teach them. I am a strong advocate of learning how to protect yourself with hands or weapons, especially guns and knives. My heart broke for Alisha but I was so proud of her for learning how to protect herself. As for the stalker, you know what he is up to but there were several guys it could have been. I liked the reveal because I had an idea of who it could be but I was wrong.
I have read Karen Tjebben's Scintillate series and was very eager to read the Savage Security. Karen did a great job with this story and now I'm very eager to read Avenging Kiss.
Avenging Kiss (Savage Security – 2) by Karen Tjebben
Some sins cannot be forgiven. Those must be avenged.
When Aditya Chopra stumbled upon the decimated camp, she vowed to hunt down the men who killed her sister. The stench of burnt flesh and the taste of death in the air haunt her dreams and power her lust for vengeance. She will show no mercy.
The men of Savage Security served their country. They'd done their time in the sandbox and now enjoy their peaceful lives in the States, far from the death and mayhem of war. Will living in peace blind them to the dangerous threat that's poised to strike?
Amazon     Barnes and Noble     Goodreads
My Review
5 stars
The men of Savage Security have done their time in the big sand box and are now doing their best to adjust to civilian life. Thankfully they have each other. But things they left behind are about to come back to finish the job they thought was done. Aditya Chopra plans to finish the people that killed her sister and she has found a man that is looking for the same people. Will the guys stop them?
This is a great story filled with lots of action and a lot of romantic tension. We start with Hazeem, he lost his village and he blames himself for not trying to fight back like others that died. He is determined to find the men and kill them. Aditya lost her sister and wants to kill the same men as Hazeem. The only difference is she is a lot smarter and plans on blaming Hazeem, especially since he played a part in the loss of her sister too.
I had to laugh at Jake and Belle. Jake is your typical manly man and has the hots for Belle although he's been told she is off limits. I loved the whole researching Eric thing. And poor Belle, her she is surrounded by all of these handsome men and no one seems to really want her, you can't blame her for looking at Eric.
This book has everything. Action, mystery, revenge, and romance. It's a great follow up to Blood Kiss and I can't wait to see what happens next.
I received Avenging Kiss from the author for free. This has in no way influenced my opinion of this book.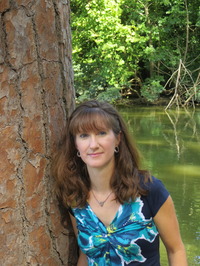 Author's Bio
Karen Tjebben lives in central North Carolina with her wonderful husband, twin daughters, and two hamsters. When her girls left for kindergarten, Karen discovered that she needed to fill her days with something, and that was the beginning of her new career in writing. She loves to create worlds filled with unique creatures that she hopes will delight and raise goose bumps on her readers. In her free time, she enjoys traveling with her husband and seeing the world through her daughters' eyes.