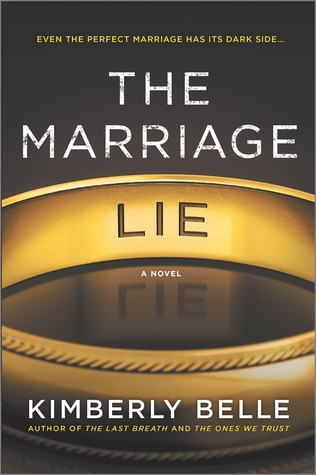 The Marriage Lie by Kimberly Belle
Even the perfect marriage has its dark side… 
Iris and Will's marriage is as close to perfect as it can be: a large house in a nice Atlanta neighborhood, rewarding careers and the excitement of trying for their first baby. But on the morning Will leaves for a business trip to Orlando, Iris's happy world comes to an abrupt halt. Another plane headed for Seattle has crashed into a field, killing everyone on board, and according to the airline, Will was one of the passengers on this plane.
Grief-stricken and confused, Iris is convinced it all must be a huge misunderstanding. But as time passes and there is still no sign of Will, she reluctantly accepts that he is gone. Still, Iris needs answers. Why did Will lie about where he was going? What is in Seattle? And what else has he lied about? As Iris sets off on a desperate quest to find out what her husband was keeping from her, the answers she receives will shock her to her very core.
Amazon     Barnes and Noble     Goodreads
Author's Bio
Kimberly Belle is the international bestselling author of three novels: The Last Breath, The Ones We Trust, and The Marriage Lie. A graduate of Agnes Scott College, Kimberly worked in marketing and nonprofit fundraising before turning to writing fiction. She lived for over a decade in the Netherlands and currently divides her time between Atlanta and Amsterdam.
My Review
4 stars
Iris and Will have been married for seven years in Atlanta. Will flies out to Orlando to attend a conference and Iris thinks nothing of it, until she gets a phone call that says he was on a flight to Seattle and the plane crashed. Heartbroken and wanting to deny it, Iris finally has to face facts that her marriage was not as perfect as she though it was. So, with the help of her brother, Iris starts digging into Will's past.
Like many other contemporary stories out there, we have the perfect couple that has the perfect life until something happens to one of them and the other has to discover that things are not as perfect as they seemed. Of course Iris is heartbroken and questioning herself and wrapped up in her emotions.
I am sorry, but it seems like most contemporary romance stories like this all have the same pattern. But I will admit that the ending really threw me off, I was not expecting that.  That kicked this book up higher than I was thinking.
It's a great book and I think if you were into stories that have this plot line you will really enjoy this book.
I received The Marriage Lie from the publisher for free. This has in no way influenced my opinion of this book.