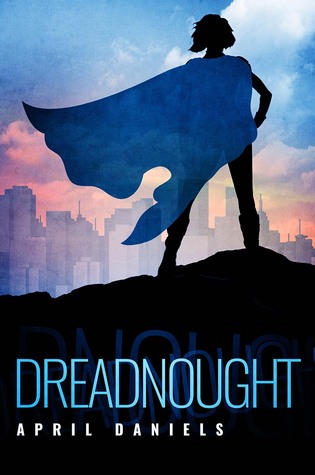 Dreadnought (Nemesis – 1) by April Daniels
Danny Tozer has a problem: she just inherited the powers of the world's greatest superhero. Until Dreadnought fell out of the sky and died right in front of her, she was trying to keep people from finding out she's transgender. But then her second-hand superpowers transformed her body into what she's always thought it should be. Now there's no hiding that she's a girl.
It should be the happiest time of her life, but between her father's dangerous obsession with curing her girlhood, her best friend suddenly acting like he's entitled to date her, and the classmate who is secretly a masked vigilante, Danny's first weeks living in a body that fits her are more difficult and complicated than she could have imagined.
She doesn't have much time to adjust. Dreadnought's murderer, a cyborg named Utopia, still haunts the streets of New Port City. If Danny can't sort through the confusion of coming out, master her powers, and stop Utopia in time, humanity faces extinction.
Amazon     Barnes and Noble     Goodreads
Author's Bio
April Daniels graduated from UC Santa Cruz with a degree in literature, and then promptly lost her job during the 2008 stock crash and recession. After she recovered from homelessness, she completed her first manuscript by scribbling a few sentences at a time between calls while working in the customer support department for a well-known video game console. She has a number of hobbies, most of which are boring and predictable. As nostalgia for the 1990s comes into its full bloom, she has become ever more convinced that she was born two or three years too late and missed all the good stuff the first time around. Early in her writing practice, April set her narrative defaults to "lots of lesbians" and never looked back.
My Review
5 stars
Danny Tozer is a teenager that is transgender and trying to be happy while avoiding arguments and worse from her father who does not accept her for anything but a young, tough male. One day she is hiding and painting her toe nails when there is an epic super battle and the super hero Dreadnought ends up losing and dying at Danny's feet. Although he had no other choice, Dreadnought transfers his powers to her. This instantly changes Danny into the female form he desires and give him all these super powers.
But this gift has a lot of negatives to it. Because she is underage, there are some tensions about her choosing what side to be on in the fight against good and evil. Then there is coming to terms with both his new body and powers. But if that wasn't enough, then there is the fight with his father, who is bound and determined to change her back into a boy. It doesn't help that all the guys are hitting on her, like her best friend that deems she HAS to date him.
Danny has to learn to use her powers, decide if she wants to be a white cape, grey cape, or black cape; how will she protect her family and friends, and so much more. I loved following along as Danny finds her place in the world and stands out at the same time.
I am of the mind to go with what makes you happy. If identifying as the opposite sex makes you happy and you are not hurting anyone, go for it. But there is a lot more to this topic than that simple idea and it is a big deal lately. This book shows a lot of why. Danny is verbally abused and probably worse at home as his father is trying to make him a manly man. She doesn't fit in anywhere else. Then she seems to have her dreams answered just to find out she is still fighting the norms just from the other side.
This book is wonderful and I recommend everyone check it out. It is an unconventional super hero story but one that I absolutely loved. You may find your new favorite book. I cannot wait to see what happens next in this series.
I received Dreadnought from the Diversion Books for free. This has in no way influenced my opinion of this book.