Coveted Kiss (Savage Security – 3) by Karen Tjebben
Bella Chan is a good girl surrounded by alpha-males who thrive on danger. Unfortunately, that danger comes back to bite her. She can still feel the deadly grip of Hazeem's fingers wrapped around her neck. If Jack hadn't shown up at Savage Security, she'd be dead. Then, in pure alpha-male fashion, Jack appoints himself her personal bodyguard. Bella soon realizes that Jack isn't there to protect her. He's there to win her heart.
And now, in the aftermath of the attack, the men of Savage Security band together to hunt down the terrorists living on American soil. As they navigate through the intrigue and deception that camouflages their assailants, they also confront the treason that threatens the Nation's defenses.
Amazon     Barnes and Noble     Createspace     Goodreads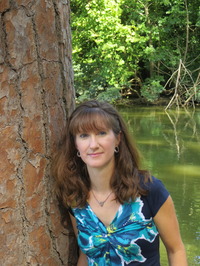 Author's Bio
Karen Tjebben lives in central North Carolina with her wonderful husband, twin daughters, and two hamsters. When her girls left for kindergarten, Karen discovered that she needed to fill her days with something, and that was the beginning of her writing career. She loves to create worlds filled with unique characters that she hopes will delight and raise goose bumps on her readers. In her free time, she enjoys traveling with her husband and seeing the world through her daughters' eyes.
Facebook     Pinterest     Instagram     Twitter     Tumbler     Amazon
My Review
5 stars
Bella was attacked by Hazeem when she discovered his setting a bomb and if it wasn't for Jack she would be dead. Jack has a thing for Bella and has tried to remain distant but that attack set off his protectiveness. Bella is now seeing Jack in a different light and finds herself drawn to him. But there is not a lot of time for romance since the men of Savage Security go on the hunt for these terrorists.
I'm so glad to see that Bell and Jack have finally gotten together. It's sweet but there is no time to get too wrapped up in each other, Jack still has a job to do with the team. And they have their hands full hunting these terrorists down. With lots of action you will be flipping pages like crazy to see what happens next.
This is an amazing, thrilling series. Yes, it has romance in it but the story is not over powered with it. I can't wait to see what Karen Tjebben comes up with next.
I received Coveted Kiss from the author and Reading Addiction Virtual Book Tours for free. This has in no way influenced my opinion of this book.
Giveaway
$5 Amazon Gift Card