The Wolves of El Diablo (The Men Who Walk Like Wolves – 2) by Eric Red
In The Guns of Santa Sangre, three 1800s gunfighters battled a ferocious pack of werewolves in Old Mexico. In the sequel, The Wolves of El Diablo, the three outlaws rob a Federale steam train in the badlands of El Diablo transporting a fortune in silver bars. But when a savage werewoman, hungry for revenge on the men who killed her brother, leads her bloodthirsty gang of wolfmen in an attack on the train, the outlaws find themselves trapped on a highballing railroad in the middle of the desert fighting fifty werewolves. This time it's bigger action, more lycanthropes, more silver bullets, and much more Werewolf Western thrills!
Amazon     Barnes and Noble     Goodreads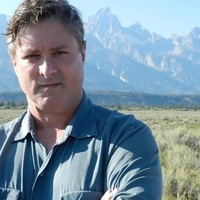 Author's Bio
Eric Red is a Los Angeles based novelist, screenwriter, and film director. His first two novels, a dark coming-of-age tale about teenagers called DON'T STAND SO CLOSE and a dark fantasy called THE GUNS OF SANTA SANGRE are available from SST Publications. His other two novels, a science fiction thriller called IT WAITS BELOW, and a mystery crime thriller called WHITE KNUCKLE, are available from Crossroad Press. His fifth novel THE WOLVES OF EL DIABLO, the sequel to THE GUNS OF SANTA SANGRE, will be published in hardcover, trade paperback and digital editions by SST Publications in August 2017.
Mr. Red directed and wrote the films COHEN AND TATE for Hemdale, BODY PARTS for Paramount, UNDERTOW for Showtime, BAD MOON for Warner Bros. and 100 FEET for Grand Illusions Entertainment. His original screenplays include THE HITCHER for Tri Star, NEAR DARK for DeLaurentiis Entertainment Group, BLUE STEEL for MGM and THE LAST OUTLAW for HBO.
His published horror and suspense short stories have been in Cemetery Dance magazine, Weird Tales magazine, Shroud magazine, Dark Delicacies III: Haunted anthology, Dark Discoveries magazine, Mulholland Books' Popcorn Fiction, among others.
He created and wrote the sci-fi/horror comic series and graphic novel CONTAINMENT from SST Publications and the horror western comic series WILD WORK for Antarctic Press.
My Review
5 stars
Tucker, Fix, and Bodie were once called The Guns of Santa Sangre and were paid with one silver bullet. But now they are back to being outlaws with a price on their head. Tucker has been infected and they nervously wait for him to turn and find themselves robbing a train that is full of army men not miners.
But the men are being hunted Azul, a beautiful Mexican bandit is on the hunt for The Guns of Santa Sangre and the men that killed her brother. Azul is the leader of a pack of werewolves' intent on ending Tucker, Fix, and Bodies lives. But they might just make it out of this in one piece if Pilar can get to them in time with all the silver bullets that she has stockpiled.
I admit that I have not read the first book in this series but that has not affected my opinion of this book. I easy figured out what was happening and quickly fell into the story. You have a femme fatale that is a bad ass leader of a werewolf pack and she intent on killing those that murdered her brother. Then you have the three men that regret not getting paid and are back to being outlaws robbing a train supposedly full of silver. Thank goodness Pilar was there to save their lives.
I loved this story. There's lots of action, thrills, and plenty of gore. I will definitely be checking out The Guns of Santa Sangre and Eric Red's other books.
I received The Wolves of El Diablo from SST Publications for free. This has in no way influenced my opinion of this book.