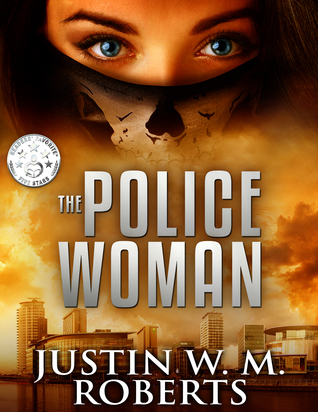 The Policewoman by Justin Roberts
Narcoterrorism wreaks havoc on the world as drug cartels operate as dominating, murderous dictatorships. The powerful Irish Drug Cartel has set up drug manufacturing plants around the world and they will kill anyone who gets in their way. Sarah is an ambitious policewoman from an antiterrorist unit. She's also smart, beautiful, and extremely good at her job, which is why she is assigned to an Interpol Incident Response Team in Manchester, set up to find and stop The Cartel. Alongside colleagues from the United Kingdom's SAS, she must quickly learn new Close Quarters Battle tactics and apply them to a vengeful and threatening battlefield. Sarah's investigation appears to be going well until the fight turns personal. She must now struggle to save her friends, family, and even herself. Spanning the globe with a keen knowledge of special forces tactics and some genuinely shocking twists, this book warns of a bloody, drug-addled future we may soon face.
Amazon     Barnes and Noble     Goodreads
Author's Bio
Justin W.M. Roberts was born in London, son of a British Army General, and grew up in Hong Kong, Germany, and England. After graduating from Hull university with a degree in Politics, Philosophy, and Psychology, he continued traveling and living Europe, Africa, and Asia.
He currently lives in Indonesia where he is an analyst of political affairs and an active promoter of secular humanism.
Authors of military thrillers are welcome to PM him for book reviews.
My Review
5 stars
Sarah Michelle Dharmawan works in the special forces in Indonesia. Because of her training and experiences she is asked to help out a special Interpol team that is looking into an Irish drug cartel that is setting up in Ireland, England, and Indonesia. It seems the cartel is filled with former British military that are willing to do whatever it takes to keep the cartel running. Sarah is about to have a crash course training with her new team to be able to fight the cartel people. But at the same time she has found someone that she cares for in Michael. But this is not really an environment to start a relationship in.
I loved all of the training and fighting in this book. You can tell that Justin Roberts has some real life training. I just love books and movies with realistic action. Truth be told, my all-time favorite part of the book was when Sarah meets everyone and they are going to issue her a weapon and she shows that she brought her own. YEAH! A woman after my own heart.
This is a great story that will keep you on your toes. It doesn't spare details which just makes it so much more believable and realistic. I admit that the first part of the book dragged a little for me as we got to know everyone and got the setting built. After that things start flying and I couldn't turn the pages fast enough or wait to finish at another time.
This is a great story and one that I recommend reading. It's a great read and an amazing debut. Justin Roberts is an author to keep an eye on.
I received The Policewoman from the author for free. This has in no way influenced my opinion of this book.