Fender by Brent Jones
How far must we travel to find our way home?
Nothing could have prepared Brennan Glover for the car crash that claimed the lives of his wife and six-year-old daughter. Stricken with grief, the only things that get him through each day are breaking his sobriety and clinging to Fender—the family dog and the sole survivor of the crash.
Desperate to distance Brennan from tragedy, his two closest friends take him on the cross-country road trip they had always talked about. But what begins as an effort to mend his broken heart ends up unraveling a secret that changes everything he thought he knew about his family. Can a journey of six thousand miles lead Brennan to acceptance and new beginnings?
From finding the good in an often cruel world to learning to say goodbye to those we love most, this sophomore release from author Brent Jones is sure to leave readers longing for home, wherever that may be.
Amazon     Barnes and Noble     Goodreads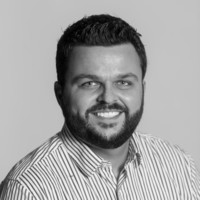 Author's Bio
From bad checks to bathroom graffiti, Brent Jones has always been drawn to writing. He won a national creative writing competition at the age of fourteen, although he can't recall what the story was about. Seventeen years later, he gave up his freelance career as a social media manager to pursue creative writing full-time. Fender and The Fifteenth of June are his first two novels.
Jones writes from his home in Fort Erie, Canada. He's happily married, a bearded cyclist, a mediocre guitarist, (sometimes) vegetarian, and the proud owner of two dogs with a God complex.
My Review
5 stars
Brennan Glover lost his wife Rosie and his six year old daughter Abby in a car crash. The only survivor was the family Beagle, Fender. Brennan is heartbroken as his world is turned upside down. Fender does his best to help out his master get through this hard time. Then Brennan's friends Franky and Rocco talk him into taking a road trip to find his way along with move on with his grief. But things are not going to go smoothly as a deep secret comes out that could destroy the friendship.
This is a heartbreaking story. How would you go on after losing your family? It's very emotional as Brennan tries to go on with his grief and depression. Fender is there to help but he can only do so much. Brennan needs to get out in the world to see that there is so much more happening. Thankfully Franky and Rocco are they to give him the proverbial boot in the butt.
Of course I'm a huge animal fan, having several cats of my own and treating them like my children. I loved the interactions with Fender. I love when stories show how important our furry children are and how big of a difference they can make in our lives.
Brent Jones has a great story and one that I think anyone will enjoy. Definitely check out this book. You will run the gambit of emotions but it is worth the tears.
I received Fender from the author for free. This has in no way influenced my opinion of this book.