An Honest Day's Work by Brent Jones
Why is the right thing to do seldom the easy thing?
And are we, as people, as compassionate as we'd like to believe?
Jim Cooke, a baker, lends a helping hand to a homeless Vietnam veteran passing through the small town of Wakefield. But he soon discovers his good deed will test both his faith and compassion.
Amazon     Barnes and Noble     Goodreads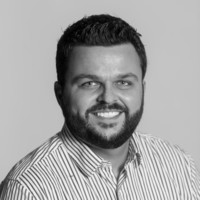 Author's Bio
From bad checks to bathroom graffiti, Brent Jones has always been drawn to writing. He won a national creative writing competition at the age of fourteen, although he can't recall what the story was about. Seventeen years later, he gave up his freelance career as a social media manager to pursue creative writing full-time. Fender and The Fifteenth of June are his first two novels.
Jones writes from his home in Fort Erie, Canada. He's happily married, a bearded cyclist, a mediocre guitarist, (sometimes) vegetarian, and the proud owner of two dogs with a God complex.
My Review
5 stars
Jim Cooke is a baker that has his own business for 30 years in a little town. One day a homeless man comes in and asks to use the bathroom. While this is going on, a regular customer of Jim, Todd, throws a fit about Jim's behavior. Jim then offers the homeless man, Bob some food. Bob wants to work off the food and Jim gives him some flyers to hand out. The next day Todd throws a huge fit when he learns about this and demands that he wants free food for handing out flyers too.
Jim has a good heart and wants to help out Bob but of course Todd thinks he knows more than Jim. Todd's horrible attitude towards Bob leads to a problem arising and Jim having to make a tough decision.
This is a great short story. It's quick and to the point about not judging a book by its cover and how everyone is a person and deserves to be treated that way. It was a great yet sad ending too. This short story has a strong message that a lot of people should read.
I received An Honest Day's Work from Amazon and the author for free. This has in no way influenced my opinion of this book.