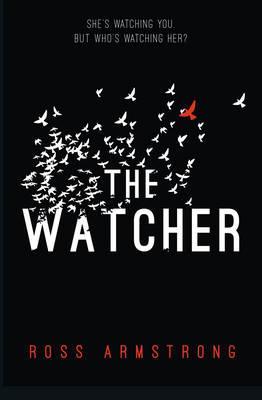 The Watcher by Ross Armstrong
She's watching you, but who's watching her?
Lily Gullick lives with her husband Aiden in a new-build flat opposite an estate which has been marked for demolition. A keen birdwatcher, she can't help spying on her neighbours.
Until one day Lily sees something suspicious through her binoculars and soon her elderly neighbour Jean is found dead. Lily, intrigued by the social divide in her local area as it becomes increasingly gentrified, knows that she has to act. But her interference is not going unnoticed, and as she starts to get close to the truth, her own life comes under threat.
But can Lily really trust everything she sees?
Amazon     Barnes and Noble     Goodreads
 Author's Bio
Ross Armstrong is an actor and writer based in North London. He studied English Literature at Warwick University and acting at RADA. He's performed on stage with the RSC in shows such as Oppenheimer in the West End and with the Donmar in Hamlet on Broadway, as well as numerous TV appearances including Foyles War, Jonathan Creek, Mr Selfridge, DCI Banks and the upcoming series of Ripper Street. The Watcher is his first novel.
My Review
4 stars
Lily and Aiden Gullick live in a newly build flat. Lily likes t watch birds but finds herself looking into her neighbor's windows on the building across from hers. This building is supposed to be demolished but there are still some people that have not left and Lily is fascinated by them and finds herself watching them more than the birds. She then see's a light on in the building and goes to investigate and meets Jean. Jean is dragging her feet about moving but the next day she is discovered dead. Lily goes to the police about what she knows and they seem interested. But then Lily is receiving phone calls from Jean and Lily becomes the one being spied on.
Lily seems to just be another person trying to entertain herself when she starts being fascinated by the people in the building across from her. But there is so much more to her than what initially see. This gives an added layer of creepy to the events.
The first thing I thought of when I read the summary of this book was Rear Window and this book easily delivers. Although I didn't really like Lily, this story will draw you in and leave you creeped out. The more I read the more I was getting the chills; it's scary to think about what could happen just from someone watching you.
This is a good thriller and one that will keep you up late with all the lights on and the curtains firmly closed. This is a great debut for Ross Armstrong. I can't wait to see what he comes up with next.
I received The Watcher from Mira for free. This has in no way influenced my opinion of this book.