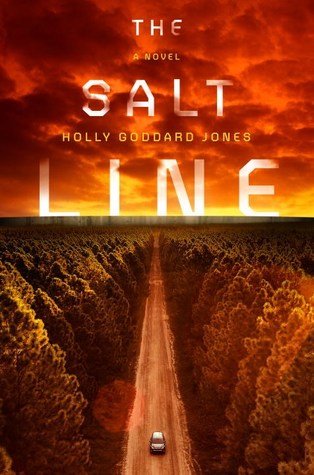 The Salt Line by Holly Goddard Jones
In the spirit of Station Eleven and California, award-winning novelist Holly Goddard Jones offers a literary spin on the dystopian genre with this gripping story of survival and humanity about a group of adrenaline junkies who jump -the Salt Line.-
How far will they go for their freedom–once they decide what freedom really means?
In an unspecified future, the United States' borders have receded behind a salt line–a ring of scorched earth that protects its citizens from deadly disease-carrying ticks. Those within the zone live safe, if limited, lives in a society controlled by a common fear. Few have any reason to venture out of zone, except for the adrenaline junkies who pay a fortune to tour what's left of nature. Those among the latest expedition include a popstar and his girlfriend, Edie; the tech giant Wes; and Marta; a seemingly simple housewife.
Once out of zone, the group find themselves at the mercy of deadly ticks–and at the center of a murderous plot. They become captives in Ruby City, a community made up of outer-zone survivors determined to protect their hardscrabble existence. As alliances and friendships shift amongst the hostages, Edie, Wes, and Marta must decide how far they are willing to go to get to the right side of the salt line.
Amazon     Barnes and Noble     Goodreads
Author's Bio
Holly Goddard Jones is the author of The Salt Line, The Next Time You See Me and Girl Trouble (stories). Her work has appeared in The Best American Mystery Stories, New Stories from the South, Tin House magazine, and elsewhere. She was a recipient of The Fellowship of Southern Writers' Hillsdale Prize for Excellence in Fiction and of a Rona Jaffe Foundation Writers' Award. She earned her M.F.A. from Ohio State University and her B.A. from the University of Kentucky. She teaches creative writing at UNC Greensboro and lives in Greensboro with her husband, Brandon, and their children.
My Review
4 stars
A disease carrying tick has invaded our world. The miner tick bites, burrows, then released hundreds of eggs that will burst out of puss filled sores all over the body and even into the organs depending on where she burrows. What is left of humanity is gathered into zones that are treated to keep the ticks out. But there are adventure companies that will take the money of the rich for the adrenalin seekers to go camping out in the outer-zones. Our little group has mixed backgrounds and on their first night out they run into trouble. It seems a group of outer-zones survivors from Ruby City are planning on keeping their hard won land for themselves. It's going to be a fight for survival and to get back to the other side of the Salt Line.
So first off, creepy burrowing ticks that lay a ton of eggs that will burst forth baby ticks from your body. YUCK!!! I can't help but read this mainly because of that. But this was just a little part of the story. Here you have people that are living in these government controlled zones with little privacy thinking that they have nowhere else to go so they deal with the hand they have. But there is so much more to this world than they knew.
I didn't really expect where this story was going after learning about the ticks. It was great how the four people learn how there is so much more going on and seeing how much they have been lied to over the years. This was a really good story that kept me engaged and threw me off a couple times. But over all a great read. It's so much more than the miner ticks and I think many will like it.
I received The Salt Line from Penguin Random House for free. This has in no way influenced my opinion of the book.