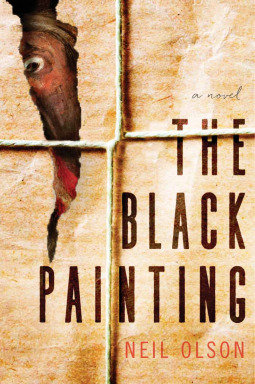 The Black Painting by Neil Olson
An old-money East Coast family faces the suspicious death of its patriarch and the unsolved theft of a Goya painting rumored to be cursed.
There were four cousins in the Morse family: perfect Kenny, the preppy West Coast lawyer; James, the shy but brilliant medical student; his seductive, hard-drinking sister Audrey; and Teresa, youngest and most fragile, haunted by the fear that she has inherited the madness that possessed her father.
Their grandfather summons them to his mansion at Owl's Point. None of them has visited the family estate since they were children, when a prized painting disappeared: a self-portrait by Goya, rumored to cause madness or death upon viewing. Afterward, the family split apart amid the accusations and suspicions that followed its theft.
Any hope that their grandfather planned to make amends evaporates when Teresa arrives to find the old man dead, his horrified gaze pinned upon the spot where the painting once hung. As the family gathers and suspicions mount, Teresa hopes to find the reasons behind her grandfather's death and the painting's loss. But to do so she must uncover ugly family secrets and confront those who would keep them hidden.
Amazon     Barnes and Noble     Goodreads
Author's Bio
Neil Olson is the author of THE ICON, a novel of art theft and family intrigue, and the play DEALERS. His second novel, THE BLACK PAINTING, concerning the unsolved theft of a haunted self-portrait by Goya, will be published in January 2018. He lives in New York City with his wife and cat, and works in the publishing industry.
My Review
3 stars
Fifteen years ago the Morse cousins left the family estate after the thief of a cursed Goya painting disappears. The cousins has been summoned back to Owl's Point. But when Teresa arrives she finds her grandfather dead. It looks like a murder and out of the four cousins, Teresa is the one that is going to find out what happened to both her grandfather and the painting.
But this is one messed up family. Kenny, James, and Audrey have a load of issues and Teresa has a medical condition that she is worried that she has inherited. She seems to be the most honest out of the bunch but she can be unreliable. It seems money is the key factor in both the robbery and murder but the question is who did it and why.
This story reminds me of a gothic mystery. Its dark, dreary, you have money grubbers, mental illness, and a cursed family and painting. There were several characters to keep track of but I found that I didn't really get to know enough of any of them to really care what was happening to them. But morbid curiosity did have me finishing to book to find out who was the killer/thief.
This is not a bad story, just one that didn't really draw me in. I think it will be one that you will either like or not.
I received The Black Painting from Harper Collins for free. This has in no way influenced my opinion of this book.