The Matchbook by Brent Jones
Corbyn Thurber, seventeen, meets the love of his life while passing through the small town of Wakefield—he just doesn't know it at the time.
He returns years later in search of the woman he never forgot only to discover she has a dark secret. And tracking her down under the watch of judgmental locals is only half as antagonizing as his sense of self-doubt.
Amazon     Barnes and Noble     Goodreads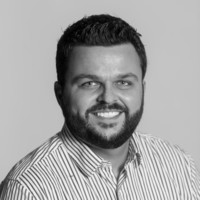 Author's Bio
From bad checks to bathroom graffiti, Brent Jones has always been drawn to writing. He won a national creative writing competition at the age of fourteen, although he can't recall what the story was about. Seventeen years later, he gave up his freelance career as a social media manager to pursue creative writing full-time. Fender and The Fifteenth of June are his first two novels.
Jones writes from his home in Fort Erie, Canada. He's happily married, a bearded cyclist, a mediocre guitarist, (sometimes) vegetarian, and the proud owner of two dogs with a God complex.
My Review
5 stars
When Corbyn Thurder was seventeen he found himself in the Platinum Paradise, a strip club. There he got to experience a dance from Sapphire. Afterwards she wrote her name and number on a matchbook. Corbyn has never forgotten her and now finds himself back in Wakefield tracking her down. There is clearing something going on with how the locals react every time he asks them about her. But when he finds her his illusion is shattered by the truth.
Not everything is as it first appears. Corbyn hunts down Sapphire, almost in a stalking manner, but he means the best for her. He was not expecting what he finds. I can relate. I moved states away from my original home and returns years later. It's amazing how what we knew years earlier don't have the same meaning and luster that I remembered.
This is a great short story that will make you think about things you remembered in the past and how much they have changed.
I received The Matchbook from the author for free. This has in no way influenced my opinion of this book.