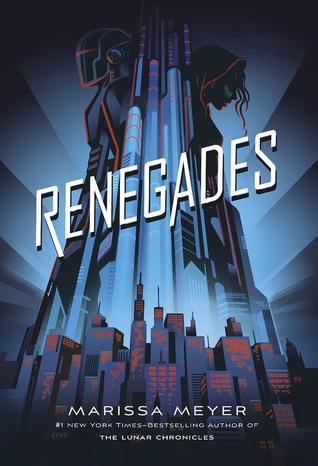 Renegades (Renegades – 1) by Marissa Meyer
Secret Identities. Extraordinary Powers. She wants vengeance. He wants justice.
The Renegades are a syndicate of prodigies—humans with extraordinary abilities—who emerged from the ruins of a crumbled society and established peace and order where chaos reigned. As champions of justice, they remain a symbol of hope and courage to everyone…except the villains they once overthrew.
Nova has a reason to hate the Renegades, and she is on a mission for vengeance. As she gets closer to her target, she meets Adrian, a Renegade boy who believes in justice—and in Nova. But Nova's allegiance is to a villain who has the power to end them both.
Amazon     Audible     Barnes and Noble     Goodreads
Author's Bio
One of my first spoken words was "story" (right along with "bath" and "cookie"), my favorite toy as an infant was a soft, squishable book, and I've wanted to be a writer since I first realized such a job existed.
When I was fourteen my best friend introduced me to anime and fanfiction—over the years I would complete over forty Sailor Moon fanfics under the penname Alicia Blade. Those so inclined can still find my first stories at fanfiction.net. Writing fanfic turned out to be awesome fun and brought me in contact with an amazing group of fanfiction readers and writers. As Alicia Blade, I also had a novelette, "The Phantom of Linkshire Manor," published in the gothic romance anthology Bound in Skin (CatsCurious Press, 2007).
When I was sixteen I worked at The Old Spaghetti Factory in Tacoma, Washington, affectionately termed "The Spag." (Random factoid: This is also the restaurant where my parents met some 25 years before.) I attended Pacific Lutheran University where I sorted mail that came to the dorm, carted tables and chairs around campus, and took writing classes, eventually earning a Bachelor's degree in Creative Writing and Children's Literature. Knowing I wanted a career in books, I would also go on to receive a Master's degree in Publishing from Pace University (which you can learn more about here). After graduation, I worked as an editor in Seattle for a while before becoming a freelance typesetter and proofreader.
Then, day of days, someone thought it would be a good idea to give me a book deal, so I became a full-time writer. CINDER was my first completed novel, though I have an adorable collection of unfinished ones lying around, too.
I married my husband in 2011, two months before the release of Cinder, and we adopted our two beautiful twin daughters, Sloane and Delaney, in 2015. Reading lots and lots of bedtime stories is most definitely a new favorite pastime.
My Review
5 stars
When humans started developing super powers they were hunted like witches. Then the Anarchists arose and made it known that they were not going to be hunted any longer. Although the protégés we no longer the prey, many rival gangs to the Anarchists arose and started terrorizing the human. So the Renegades started to stop the Anarchists and the other gangs. In the ten years since they defeated the leader of the Anarchists, Ace, the Renegades have started rebuilding everything and getting commerce moving again. But the humans rely on the Renegades for everything.
Nova was six when a man came and murdered her family. She used her powers and put him to sleep. Ace arrived shortly thereafter and took her in. She learns that her father had asked the Renegades for help protecting his family. They told him if he stopped making weapons they would help. But they didn't, only Ace was there. From this moment Nova started hating the Renegades and wants nothing more than to bring them down.
Nova is grown and has been surviving with the remaining Anarchists in the abandoned subway tunnels. But she has to opportunity to infiltrate the Renegades as Insomnia. The whole plan is to gain as much knowledge of the Renegades and their tower to bring them down. But she didn't count on Adrian.
After the ultimate betrayal from the Renegades Nova can think of nothing else than to bring them down. What better way than to become a Renegade herself? But she didn't count on starting to become friends with them. Nova, as Nightmare tried to kill Captain Chromium and had a tussle with the Sentinal.
Nova let slip a saying that was pinned to Adrian's mother's body when she was found killed. Adrian is now intently hunting Nightmare to find out what she knows. Now Nova is balancing on a knives edge as Insomnia trying to help capture Nightmare.
I really enjoyed this story. It kept me enthralled waiting to see if Nova got her revenge or if she decided that she could change and become a Renegade. Rebecca Soler and Dan Bittner did an amazing job narrating this story. They really brought it to life. This is a great young adult superhero story that I think you should check out.
I received Renegades from Macmillan Audio for free. This has in no way influenced my opinion of this book.