A Book With No Pictures by Brent Jones
Meet Terrence.
He's pushing forty. He drinks. He smokes. He eats snack cakes for breakfast. And he's the sole guardian of his orphaned nephew, Spencer.
But Spencer isn't just any five-year-old. He's a child prodigy, and living together requires compromises that neither uncle nor nephew are prepared to make.
This short story, from the author of Fender and The Fifteenth of June, is teeming with raunch and dark humor, mocking the old adage that blood is thicker than water.
A Book With No Pictures also introduces readers to children's librarian, Afton Morrison, the subject of an upcoming thriller series, also set in the fictional town of Wakefield.
Amazon     Barnes and Noble     Goodreads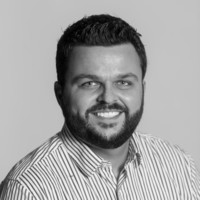 Author's Bio
From bad checks to bathroom graffiti, Brent Jones has always been drawn to writing. He won a national creative writing competition at the age of fourteen, although he can't recall what the story was about. Seventeen years later, he gave up his freelance career as a social media manager to pursue creative writing full-time. Fender and The Fifteenth of June are his first two novels.
Jones writes from his home in Fort Erie, Canada. He's happily married, a bearded cyclist, a mediocre guitarist, (sometimes) vegetarian, and the proud owner of two dogs with a God complex. Subscribe to his newsletter here  or follow him on social media here for updates.
My Review
4 Stars
Terrence is almost forty, separated from his wife, sees his daughter once a week if he is lucky, and essentially a slob. He is also his five year old nephew's guardian even if he is not responsible enough to spend any real time with his own daughter. But Spencer is an odd duck for a five year old and really wants to read a book with no pictures.
I feel bad for Spencer, he lost his parents to a tragic nature event and now he is stuck with Terrence. But at the same time I feel for Terrence for trying to take care of a kid that is clearly more of an adult than he is. The whole story with Afton was good and I like where it lead Terrence's thoughts with Spencer. But the part with Anna was a bit creepy.
This was a good, quick read. I would be curious to see where Spencer ends up in a couple years, I'm thinking juvie. It was entertaining and kept me wondering how it was going to end.
I received A Book With No Pictures from the author for free. This has in no way influenced my opinion of this book.