Hiding by Jenny Morton Potts
​Genre:  Psychological Thriller
 A gripping psychological thriller with chilling twists, from a unique new voice.
Keller Baye and Rebecca Brown live on different sides of the Atlantic. Until she falls in love with him, Rebecca knows nothing of Keller. But he's known about her for a very long time, and now he wants to destroy her.
This is the story of two families. One living under the threat of execution in North Carolina. The other caught up in a dark mystery in the Scottish Highlands. The families' paths are destined to cross. But why? And can anything save them when that happens?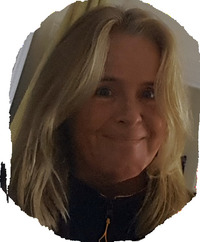 Author's Bio
Jenny Morton Potts was born in a smart, dull suburb of Glasgow where the only regular excitement was burglary. Attended a smart, dull school where the only regular excitement was the strap. Worked in smart, dull sales and marketing jobs until realising she was living someone else's life.
Escaped to Gascony to make gîtes. Knee deep in cement and pregnant, Jenny was happy. Then autism and a distracted spine surgeon who wanted to talk about The Da Vinci Code, wiped out the order. Returned to wonderful England – and unlikely ever to leave again – Jenny, with assistance from loyal hound, walked and swam her way back to manageable health.
Jenny would like to see the Northern Lights but worries that's the best bit and should be saved till last. Very happily, and gratefully, partnered for 28 years, she ought to mention, and living with inspirational child in Derbyshire.
My Review
5 stars
When Rebecca Brown was four years old her parents were killed in a car accident. Rebecca and her older brother and sister go to live with their grandparents at Tarasay in the Scottish Highlands. The kids are raised essentially isolated and with a limited amount of love.
In North Carolina we meet Keller Baye. His father is about to die of lethal injection from a failed bank robbery. Kaller has his own issues when he grew up but he decides to head to England after his father's death. There Rebecca meets Keller and falls for him. But there is more to Keller than she knows.
This is an amazing thriller. It starts slowly and builds up steam as you go along. Rebecca and Keller have had challenges in their lives but when they meet Rebecca thinks she has found her love. Unfortunately Keller has some serious issues and is not looking for a loving relationship with Rebecca. He has hunted her down specifically and is planning on killing her.
I love how you go around with this story but learn that both Keller and Rebecca have a bigger connection. I was wrapped in this story from the start. I agree with others when they said the book ends rather abruptly but in this case I think it is the perfect ending.
If you like psychological thrillers look no further. This is an amazing story and one that you don't want to miss. I can't wait for more from Jenny Morton Potts.
I received a complimentary copy of this book. I voluntarily chose to read and post an honest review.
I would like to thank Rachel's Random Resources for the opportunity to share this book.