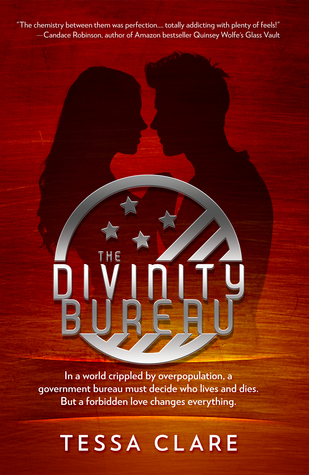 The Divinity Bureau by Tessa Clare
The Hunger Games meets Romeo and Juliet in a stunning debut about a forbidden romance between a young activist and a government employee working for a corrupt bureau that controls the population by deciding who lives and who dies.
Roman Irvine is a disgruntled IT Technician for the Divinity Bureau, a government agency that uses random selection to decide who lives and who dies. In a world where overpopulation has led to pollution, a crippled economy, and a world in crisis, he has accepted the bureau's activities as a necessity. That is until he meets April McIntyre.
April has every reason to be suspicious of Roman. He works for the Divinity Bureau, which sent her father to an early grave. However, he is also sweet and loyal, and unbeknownst to her, he saved her life. As Roman and April fall deeper in love, the deeper they are thrust into the politics of deciding who lives and who dies. Someone wants April dead. And the bureau's process of random selection may not be so random after all.
Amazon     Barnes and Noble     Goodreads
Author's Bio
Tessa Clare is the author of The Divinity Bureau. When she's not writing, she's an entrepreneur, an activist, a speaker, and the Managing Director of Asset Creative House.
Born in 1992, she began her early career as a concession stand attendant, a busgirl, a barista, a player's club representative for a casino, and an administrative assistant. She also spent years working as a manager for Vacasa, whose business model and revolutionary marketing strategies would later inspire the groundwork for Asset Creative House.
The Divinity Bureau is Tessa's debut novel about a forbidden love between a young activist and a government employee working for a corrupt bureau, set in a dystopian world. It was released in 2017.
My Review
5 stars
The world is over populated and has limited resources for the populous. The Divinity Bureau has stepped up to take care of this situation by creating a random selection method to start thinning the herd or killing people. Of course people believe that this is all for the best until a rebel group starts pointing out that it's convenient that a select group is never chosen from for this lottery.
Enter Roman Irvine, a technician at The Divinity Bureau. All he does is stare at a computer screen full of names on a daily bases. That is until he sees the name April McIntyre. April's father was a political that was open about who was in the selection process and was chosen to die. April knows his death was a cover for The Divinity Bureau and is one of the rebels trying to get the information out to the people.
When Roman see's April's name on his computer, he knows that he has to protect her. April see's Roman as a cog in The Divinity Bureau's machine. But the come to an uneasy truce arises where Roman and April are going to have to work together. Of course there is a beautiful relationship that comes from this.
Everyone knows I'm a sucker for a great dystopian series and The Divinity Bureau is going on the top of that list. You have a well-developed world that sucks you into the struggles of Roman and April. I loved the "great" idea of how to control the over-whelming population. Of course those of power and influence would come up with this kind of solution. It also works well for those that try to bring attention to the down falls.
But better than that struggle is the sweet romance of Roman and April. They are nearly polar opposites but come together to end this mindless killing. You couldn't ask for a better couple.
This is a great first book from Tessa Clare and I can't wait to read what she comes up with next. This is one book you HAVE to add to your collection.
I received a complimentary copy of this book. I voluntarily chose to read and post an honest review.
I would like to thank Tessa Clare for the opportunity to read and share her book.