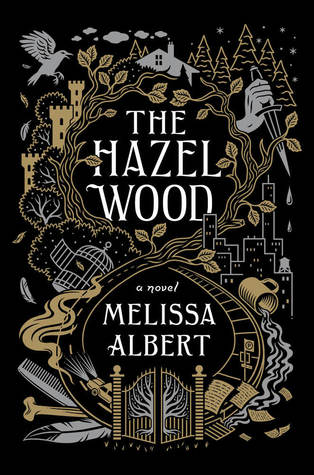 The Hazel Wood (The Hazel Wood – 1) by Melissa Albert
Seventeen-year-old Alice and her mother have spent most of Alice's life on the road, always a step ahead of the uncanny bad luck biting at their heels. But when Alice's grandmother, the reclusive author of a cult-classic book of pitch-dark fairy tales, dies alone on her estate, the Hazel Wood, Alice learns how bad her luck can really get: her mother is stolen away―by a figure who claims to come from the Hinterland, the cruel supernatural world where her grandmother's stories are set. Alice's only lead is the message her mother left behind: "Stay away from the Hazel Wood."
Alice has long steered clear of her grandmother's cultish fans. But now she has no choice but to ally with classmate Ellery Finch, a Hinterland superfan who may have his own reasons for wanting to help her. To retrieve her mother, Alice must venture first to the Hazel Wood, then into the world where her grandmother's tales began―and where she might find out how her own story went so wrong.
Amazon     Audible     Barnes and Noble     Goodreads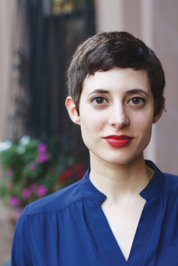 Author's Bio
Melissa Albert is the founding editor of the Barnes & Noble Teen Blog and the managing editor of BN.com. She has written for McSweeney's, Time Out Chicago, MTV, and more. Melissa is from Illinois and lives in Brooklyn, New York. The Hazel Wood is her first novel.
My Review
5 stars
Alice is the granddaughter of the famous author Althea Proserpine. Althea wrote a famous, dark collection of fairy tales called Tales from the Hinterland. They are very dark and very famous but it is the one and only book that Althea wrote and very hard to find. Alice's mother Ella, grew up at The Hazel Wood, Althea's estate, and has taken Alice and cut all ties to Althea. They live a rough life bouncing from home to home, city to city. It seems darkness and bad luck follow them if they stay in one place to long.
Things have been going well for Alice and Elle, well for Elle. She has gotten married and seems to be over the moon. Alice on the other hand is a ball of pure hate and rage and is about as personable as a ticked off porcupine. But then one day Alice comes home to find her mother kidnapped and she has been kicked out of her step father's life.
Alice goes after her mother with the help of a classmate/Althea Proserpine super fan, Ellery Finch. Alice is going to learn a lot more about The Hinterland and The Hazel Wood. But she has to be careful or she is going to lose herself in this world.
The first thing I have to say is that Alice can be so irrational that she will push you away from her. It was hard to sympathize with her at first. But the more I read then more I could understand some of her personality. I liked the dark twisted fairy tales of The Hinterland that haunt her and I loved her quest to find her mother. Ellery Finch was a great guide that doesn't really seem like the rich kid he is. He did irritate me with his deal but he does make up for it at the end.
Rebecca Soler narrates this book and does a fantastic job. I would read any book that she narrates. I think this is a great, dark fairy tale and I am shocked that it is a first book for Melissa Albert. I do see that this is the first in a series and I can't wait to get my hands on book two.
I received a complimentary copy of this book. I voluntarily chose to read and post an honest review.
I would like to thank Macmillan Audio for the opportunity to read and share this book.