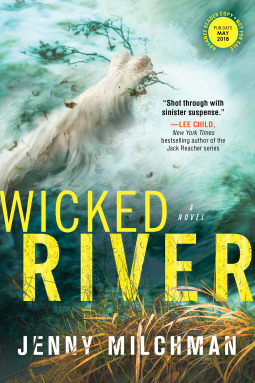 Wicked River by Jenny Milchman
Six million acres of Adirondack forest separate Natalie and Doug Larson from civilization. For the newlyweds, an isolated, back country honeymoon seems ideal: a chance to start their lives together with an adventure, on their own. But just as Natalie and Doug begin to explore the dark interiors of their own hearts, as well as the depths of their love for each other, it becomes clear that they are not alone in the woods.
Because six million acres makes it easy for the wicked to hide. And even easier for someone to go missing for good.
As they struggle with the worst the wilderness has to offer, a man watches them, wielding the forest like a weapon. And once they are near his domain, he will do e
Amazon     Barnes and Noble     Goodreads
Author's Bio
Jenny Milchman is the USA Today bestselling author of three novels, as well as the forthcoming Wicked River. Her books have won the Mary Higgins Clark and Silver Falchion awards, been praised by the New York Times, San Francisco Review of Books, the AP, and many other publications.
Jenny has given over five hundred workshops and talks on the writing and publishing process. She sits on the board of directors of International Thriller Writers, is a member of the Sisters in Crime speakers bureau, and founded Take Your Child to a Bookstore Day, which is celebrated annually in all fifty states and on five continents.
My Review
4 stars
Natalie and Doug Larson have decided to honeymoon in the Adirondack forest, six million acres of peace and quiet camping. Things are going well until they discover a body. Things start happening and they realize they are not the only people in the woods. Someone is watching them. The question is what they are going to do to Natalie and Doug.
There is something going on between these two and an incident just before the wedding had me wondering what Doug was up to with the camping trip. It's clear these two don't know much about camping and find themselves in trouble. That was before they run into Kurt. Kurt lives in the woods and is following Natalie and Doug. It seems he wants to invite them to come back to his place.
This was a good thriller. It did take a while to pick up steam but once it got going I was invested and wondering if Doug was not going to make it out, no I really didn't like him. You also have the story line with Mia, Natalie's thirteen year old niece that seems to realize that something is wrong. Although it adds to the story, it could have easily been left out too.
Over all this is a good read. It's my second book from Jenny Milchman. I will definitely be keeping my eyes out for her other books.
I received a complimentary copy of this book. I voluntarily chose to read and post an honest review.
I would like to thank Sourcebooks for the opportunity to read and share this book.