The Agency (Jed Walker – 5) by James Phelan
It's 2005, and Walker has just entered the CIA. After a distinguished ten-years within Air Force special ops, he's re-upped to avoid a desk job. But his first job will move the front line far closer to home – his first mission is stateside.
New Orleans, pre Katrina. Walker is sent on a mission by Harold Richter, CIA field operations legend and trainer of agents provocateur. The task he sends Walker on is a one-way ticket – survive and succeed at all costs. Walker is an off-the-grid, solo, deniable asset.
But Walker soon finds out: he's not alone. There's a British Agent in place, a feisty MI6 operator named Steph Mensch, and she's been tracking a super yacht of Russians from Miami to the Big Easy. They're there to buy – and the asking price is huge. Soon, our spies learn that they must work together, and their missions become one and the same – and personal.
When Steph is taken hostage, the case opens up. No one is who they seem, and soon Walker must take steps that will betray The Agency in order to do what's right by the nation. In a high-stakes game where the winner takes all, he mustsucceed. But at what cost?
Then Walker finds out: the Russians are there to buy something that was stolen from them during the Russian war in Afghanistan. Walker uses all the skills he can bring to bare as his mission heats up in more ways than one, and he knows: if he doesn't succeed, it's not only Steph and he that will be left behind – failure will result in the world suffering an epic act of terrorism.
As Katrina comes to town to forever change a city and a country, it's clear to Walker that his life as a spy will play a pivotal part in shaping our world. From Langley to Louisiana, Washington to Moscow, The Agency moves like a hurricane through a treacherous landscape of double crosses, false identities, and enemies old and new.
Amazon     Barnes and Noble     Goodreads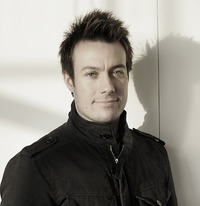 Author's Bio
James Phelan is the award-winning author of twenty-four novels and one work of non-fiction. He first studied and worked in architecture before turning to English/Lit, working five years at The Age newspaper, obtaining an MA (Writing) and PhD (Young Adult Literature).
Hachette has published his five geo-political thrillers: FOX HUNT, PATRIOT ACT, BLOOD OIL, LIQUID GOLD and RED ICE.
From 2010-2011, Hachette published the widely acclaimed ALONE trilogy of Young Adult post-apocalyptic/dystopian novels.
In 2013/2014, Scholastic published James' thirteen-book adventure series about the dream work THE LAST THIRTEEN. The multi-award winning series (2014 YABBA, COOL, KOALA awards) has been highly successful around the world, selling over a million copies in 18 months.
THE SPY (Hachette, 2013), was the first instalment in a new series of suspense thrillers with the protagonist Jed Walker, and is followed by THE HUNTED (2015), and KILL SWITCH (2015).
James is currently working on a follow-up trilogy to THE LAST THIRTEEN, more thrillers, and an illustrated middle-grade series titled GRANDPA SPIES.
James has taught writing at post-graduate level and regularly talks at schools, libraries and universities around the world. Since 2006 he has sold over 4 million copies of his books.
My Review
4 stars
It is 2005 and Jed Walker has decided to join the CIA instead of being stuck behind a desk after ten years in the Air Force Special Forces. He goes through hell and is just celebrating his success when director Harold Richter picks him up and dumps him in New Orleans. Jed doesn't know what is going on and what he is supposed to do but he does know that failure is not an option.
Thankfully Steph Mensch, a MI6 operator, saves his butt and puts him on the path. It seems a yacht full of Russians is in town with plans to spend a lot of money on some items. But then Steph is kidnapped and it is up to Jed to find her, discover what the Russians are after, and get out before Katrina hits land.
This is a fast paced thriller that will have you on the edge of your seat. This is my first book from James Phelan and although this is the fifth book in the series, I had no trouble catching up with the happenings and hoping that Jed saves the girl, stops the bad guys, and saves the day.
If you like fast paces thrillers with the CIA and MI6 you will love this book. I can't wait to see what I have missed with the rest of this series and others from James Phelan.
I received a complimentary copy of this book. I voluntarily chose to read and post an honest review.
I would like to thank Quercus for the opportunity to read and share this book.