Stench by AB Morgan
Rory Norton didn't always make his living as a motorbike instructor and he went to great lengths to leave his past life behind, to start again.
He thought he had succeeded, until the body of a missing woman is discovered under the floor of his cottage. Only then do the guilt and shame of his wife's mysterious, untimely death and the accusations about his connection to the missing woman combine to break him.
The question is not how the missing woman died but why, and who is responsible?
Sometimes the truth stinks.
Amazon US    Amazon UK     Barnes and Noble    Goodreads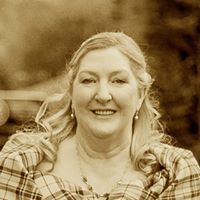 Author's Bio
Alison Morgan: former mental health nurse, married to hairy biker, fascinated by words, people, music and loves to make people smile and laugh. She once wrote a play in which none of the actors had a speaking part.
Her crime thrillers have a strong cast of characters helping to define the style and pace of each story inspired by her life and career as a Psychiatric Nurse, and her fascination with the extremes of human behaviour.
Her latest crime thriller Stench is being well received:
"A wonderful refreshing, clever read." Nicki Murphy – Nicki's Book Blog
"a thought-provoking novel, that will tap into many emotions" Alexina Golding – Bookstormer
"Impossible to put down!" Brittany Davis – NetGalley Reviewer
AB Morgan is the critically acclaimed author of A Justifiable Madness, The Camera Lies and Divine Poison. Stench is beautifully written mystery thriller which will appeal to fans of authors like Teresa Driscoll, S. E. Lynes and Barbara Copperthwaite.
My Review
5 stars
We start this story as Rory Norton has been hearing scratching and has a putrid smell coming from the floor. He figured it is his filthy neighbors and their rat problem has moved over to his house. But when the lift the floor boards, the body of his neighbor Ann Chamberlain is discovered. Of course he is immediately suspected of killing her.
Weeks previously we meet Anna Chamberlain. She lost her husband four years prior in Afghanistan. She clearly has issues because she still talks to him. Her behavior causes those around her to give her more grief than help she clearly needs. So Anna decides to learn how to ride a motorcycle. There she meets Rory and what follows is one heck of a ride for both of them.
This story started out with a bang and just kept going. I mean how can you not get dragged in when the first chapter is about a man discovering the body if his horrible neighbor dead under his floor boards? Rory is a decent guy and I felt for him in this story. He does have a past and you are kept on the edge of your seat wondering if he really did kill Anna.
Anna clearly has some issues mentally. I did feel sorry for her with the loss of her husband and how it seems those around her are not really there to help. But at the same time she becomes a crazy stalker and you it becomes hard to sympathize with her.
This is a fantastic psychological thriller that started out with a bang then slowly builds the story until you are wrapped tightly in its embrace. This is the second book I have read from this author. AB Morgan is an incredible author. Her books have a permanent place on my bookshelves.
I received a complimentary copy of this book. I voluntarily chose to read and post an honest review.
I would like to thank Bloodhound Books for the opportunity to read and share this book.