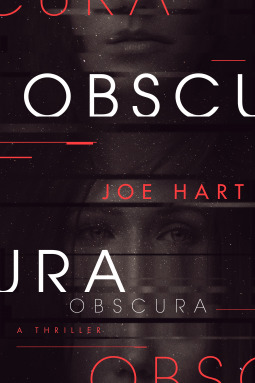 Obscura by Joe Hart
She's felt it before…the fear of losing control. And it's happening again.
In the near future, an aggressive and terrifying new form of dementia is affecting victims of all ages. The cause is unknown, and the symptoms are disturbing. Dr. Gillian Ryan is on the cutting edge of research and desperately determined to find a cure. She's already lost her husband to the disease, and now her young daughter is slowly succumbing as well. After losing her funding, she is given the unique opportunity to expand her research. She will travel with a NASA team to a space station where the crew has been stricken with symptoms of a similar inexplicable psychosis—memory loss, trances, and violent, uncontrollable impulses.
Crippled by a secret addiction and suffering from creeping paranoia, Gillian finds her journey becoming a nightmare as unexplainable and violent events plague the mission. With her grip weakening on reality, she starts to doubt her own innocence. And she's beginning to question so much more—like the true nature of the mission, the motivations of the crew, and every deadly new secret space has to offer.
Merging thrilling science-fiction adventure with mind-bending psychological suspense, Wall Street Journal bestselling author Joe Hart explores both the vast mysteries of outer space and the even darker unknown that lies within ourselves.
Amazon     Barnes and Noble     Goodreads
Author's Bio
Joe Hart was born and raised in northern Minnesota. Having dedicated himself to writing horror and thriller fiction since the age of nine, he is now the author of eleven novels that include The River Is Dark, Lineage, and The Last Girl. When not writing, he enjoys reading, exercising, exploring the great outdoors, and watching movies with his family.
My Review
5 stars
It is a couple years in our future. A new disease has stricken the world, Losian's. It is like Alzheimer's where it erases your memories but it also affects all ages. Dr. Gillian Ryan is one of the lead researchers that is trying to map the path of Losian's in the brain and has almost discovered it when she suddenly loses her funding. She is desperate to finish her research since Losian's has taken her husband and is not starting to affect her daughter. Gillian is approached and asked to go to a space station by Mars. It seems the people on the station are starting to show the same signs as those affect with Losian's. Desperate to find a cure Gillian agrees to go.
When Gillian gets out in space she is having withdrawals from a hydrocodone addiction and it is affecting her mind. When she gets to the space station she learns that it's not just memory loss with crew is suffering with. It seems a murder, suicide, and someone wanting to murder Gillian is on the space station.  There is something more happening to the crew and it's up to Gillian to figure out what if she plans on returning home.
This book has everything in it. There is a horrible disease that is starting to affect the human population. Of course there the strange event of Gillian's finding being pulled at the pivotal moment of discovery but was this done to get her in space? Gillian becomes an unreliable character herself with her addiction. And of course, nothing on the space station is what we expected.
This story sucked me in with Losian's and kept me up late wanting to know what was going to happen next. I love this book, it has a little bit of everything in it. It is one story that you need to check out.
I received a complimentary copy of this book. I voluntarily chose to read and post an honest review.
I would like to thank Little Bird Publicity for the opportunity to read and share this book.