The Scented Bones Book Trailer Reveal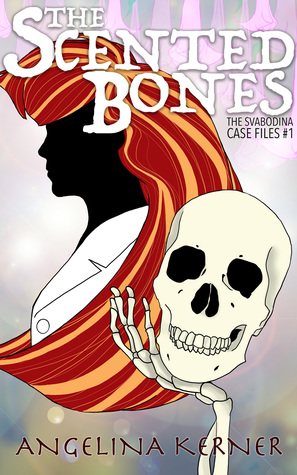 The Scented Bones: The Svabodina Case Files (The Svabodina Case Files Book 1)
Genre: Paranormal/ Mafia
Expected Publication Date: September 28, 2018
Publisher: KDP Select
Angel Svabodina is a rookie forensic anthropologist, enjoying the beginning of her new career. That joy comes crashing down when she figures out the skeleton she's working on is not human and then it vanishes.
She throws herself fully into the case without thinking about the parties involved, a psychopomp associate, and paranormal mafia families made up of vampires and werewolves—or the consequences.
When she sees there's no avoiding the inevitable, Angel has to suck it up and work with the werewolves to solve the case but can she trust them?
Werewolves and witches are in a centuries-old feud, but that doesn't stop the shivers running down her spine from one wolf in particular. What's more, nothing comes for free, including information. To get what she needs from the werewolf don, Angel has to meet with the fae queen. Can she meet her without repercussions and solve the case?
Praise for The Scented Bones
"A magical mystery in more than one sense of the word, this beautifully woven tale will charm you more than an ethereal fae." – Liliyana Shadowlyn, The Faerie Review
"This book is what happens when you mix crime stories with the supernatural. And, the result is spectacular." -Dylon Crone, beta reader
"This story combines the paranormal, the mafia, and good old detective work – a fun read!" – Sycamore, beta reader
About the Author
ANGELINA KERNER is a self-published author of paranormal and lighthearted romance. She's the wife of a photographer/physicist, and the mother of a cute little toddler, but she's also been a dancer, a psychologist, an anthropologist, a geographer, a dreamer, and an adventurer. She does her best writing while being bothered by her cats, taking care of her son, in dressing rooms while waiting for family to try on clothing, and at home in sunny California. Angelina loves to play goddess-dragon matchmaker, transporting readers to a place where young goddesses have lovable flaws, the Fates plan to dethrone, the universe is endless and untamed, and dragons roam free! She also loves to write carefree romance where one can finish reading with a smile.
Website     Facebook     Twitter     Goodreads     Pinterest
Custom Made Necklace Featuring "Tarotia" Family Tattoo
Giveaway runs from August 10th through August 13th
"Every family in the book has a family tattoo. Tarotia family is the main family that will appear in every book. The necklace is of the tattoo – two snakes wrapped around a T! Thank you for being part of the book trailer reveal for The Scented Bones!" – Angelina Kerner
https://widget-prime.rafflecopter.com/launch.js
I would like to thank R&R Book Tours for the opportunity to share this book.