Serpentine (Anita Blake – 26) by Laurell K. Hamilton
Anita Blake, Vampire Hunter, returns for her twenty-sixth adventure. Fans of Charlaine Harris and Anne Rice will delight in this series by Sunday Times and New York Times bestselling author Laurell K. Hamilton. 'A hardcore guilty pleasure' – The Times Anita Blake faces new, even deadlier enemies as she and the people she loves confront major changes in their lives…
Vampire hunter Anita Blake has managed to overcome everything she faces. But this time there's a monster that even she doesn't know how to fight…
A remote Florida island is the perfect wedding destination for the upcoming nuptials of Anita's fellow U.S. Marshal and best friend Edward. For Anita, the vacation is a welcome break, as it's the first trip she gets to take with just wereleopards Micah and Nathaniel. But it's not all fun and games and bachelor parties…
In this tropical paradise, Micah discovers a horrific new form of lycanthropy, one that has afflicted a single family for generations. Believed to be the result of an ancient Greek curse, it turns human bodies into a mass of snakes.
When long-simmering resentment leads to a big blowout within the wedding party, the last thing Anita needs is more drama. But it finds her anyway when women start disappearing from the hotel, and worse–her own friends and lovers are considered the prime suspects. There's a strange power afoot that Anita has never confronted before, a force that's rendering those around her helpless in its thrall. Unable to face it on her own, Anita is willing to accept help from even the deadliest places. Help that she will most certainly regret–if she survives at all, that is…
Amazon     Barnes and Noble     Goodreads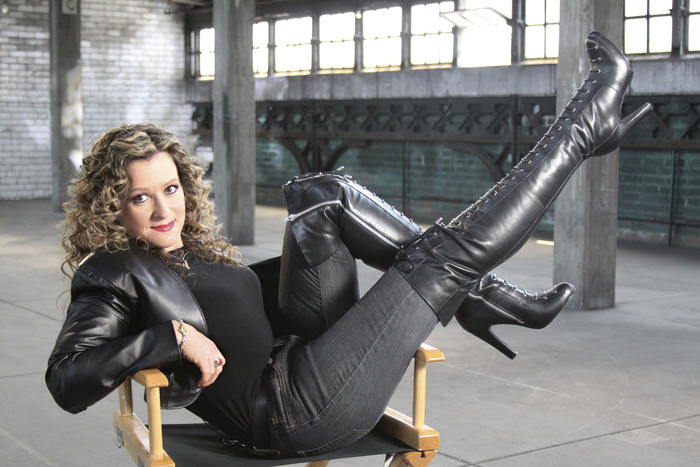 Author's Bio
Laurell Kaye Hamilton (born February 19, 1963) is an American multi-genre writer. She is best known as the author of two series of stories, Anita Blake: Vampire Hunter and Merry Gentry.
Her New York Times-bestselling Anita Blake: Vampire Hunter series centers on Anita Blake, a professional zombie raiser, vampire executioner and supernatural consultant for the police, which includes novels, short story collections, and comic books. Six million copies of Anita Blake novels are in print. Her New York Times-bestselling Merry Gentry series centers on Meredith Gentry, Princess of the Unseelie court of Faerie, a private detective facing repeated assassination attempts.
Both fantasy series follow their protagonists as they gain in power and deal with the dangerous "realities" of worlds in which creatures of legend live.
Laurell was born in rural Arkansas but grew up in northern Indiana with her grandmother. Her education includes degrees in English and biology from Marion College (now called Indiana Wesleyan University).
Hamilton is involved with a number of animal charities, particularly supporting dog rescue efforts and wildlife preservation.
Hamilton currently lives with her family in St. Louis, Missouri.
My Review
3 stars
Essentially Anita is taking a little entourage with her to Florida to attend Edward's wedding to Donna. While there they discover a family that slowly turns into snakes and some women that have disappeared. The local police believe that one of Anita's group is the killer so she steps up to solve this mystery.
I loved this series when I first started reading it years ago. I couldn't get enough but noticed that the further I got into the series the more the books become drama, sex, and a semi decent plot that just kept getting smaller and smaller the more books I read. So I quit reading after Incubus Dreams. But when I was approached to review Serpentine I couldn't wait to see what I have missed.
The murders and snake curse caught my attention and I was really curious to see where these would go. But there were a couple bumps to the plot that caused me to pause in the story. I will say that when the story finally got going it was fast and kept me turning pages.
Sadly the book is filled with so much drama and porn that I was about to put the book down several times. Don't get me wrong, I loved the first books in this series and know that there is going to be lots of sex. What got me is the feel that the plot was just the fluff parts to the next sex scene. I also hate the drama. There's a reason that I don't really like most romance books and that is it. If I wanted to watch daytime tv I would, I wouldn't waste my reading time on it.
Overall I was disappointed in this book. It seems the series has continued with the things that initially turned me away from it, which is sad since I really liked it when I first started reading it. I think that I am done with any new books with Anita Blake in them unless they can get back to a decent plot that the story is based on, not the drama and pointless over done sex scenes.
I received a complimentary copy of this book. I voluntarily chose to read and post an honest review.
I would like to thank Penguin Random House for the opportunity to read and share this book.