Nice Try, Afton (Afton Morrison – 3) by Brent Jones
Is evil a matter of choice, or are we born that way?
After a string of brazen arsons overwhelms Wakefield's first responders, the town is placed on lockdown, rendering Afton and her companions vulnerable to attack.
In a last-ditch effort to protect her inner circle, Afton attempts to establish an improbable truce with her archnemesis, leading her into a deadly trap more than a decade in the making. Survival will mean choosing to embrace her dark side, once and for all.
Nice Try, Afton is the third of four parts in a new serial thriller by author Brent Jones. Packed with grit and action, The Afton Morrison Series delves into a world of moral ambiguity, delivering audiences an unlikely heroine in the form of a disturbed vigilante murderess.
Amazon     Barnes and Noble     Goodreads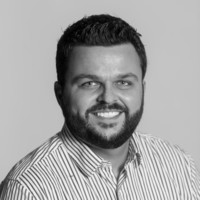 Author's Bio
From bad checks to bathroom graffiti, Brent Jones has always been drawn to writing. He won a national creative writing competition at the age of fourteen, although he can't recall what the story was about. Seventeen years later, he gave up his career to pursue creative writing full-time.
Jones writes from his home in Fort Erie, Canada. He's happily married, a bearded cyclist, a mediocre guitarist, and the proud owner of two dogs with a God complex. Subscribe to his newsletter (AuthorBrentJones.com) or follow him on social media for updates.
My Review
5 stars
Wakefield is on fire, people are dying, and the town is on lockdown. Afton and her friends know who is responsible but how can they stop them. Afton has come to care for her friends and wants to protect them from The Man in the Shadows and her crazy sister. The only way she can see how to do this is to walk right into the trap set for her.
I love this series and am constantly on the edge of my seat from one scene to the next. Afton is starting to struggle with the thought of being created to kill or being born into it. Her heart is in the right place so when Afton has to kill you can see that it's not the mindless killing of her siblings. And the meeting with her twin sister, I did not expect that one to play out the way it did.
This is an amazing series and one I strongly recommend checking out. I can't wait to get into Time's Up, Afton. I'm excited to see how this series is going to end.
I received a complimentary copy of this book. I voluntarily chose to read and post an honest review.
I would like to thank the Author for the opportunity to read and share this book.