(extra)Ordinary Women: Ten Inspirational Stories by Kristin Bartzokis
"A journey into the very marrow of which strong women are made."– Joanie Cox-Henry, journalist and blogger
Camille. Lynn. Monique. Becky and Margaret. Jaime. Olga. Christina. Rasheera. Odalys. Danielle.
These are the seemingly everyday women whose stories inspired (Extra)Ordinary Women – and whose resilience and strength will inspire women around the world.
These women have defeated breast cancer, addiction, and homelessness. They have lived through the Boston Marathon bombing and hundreds of surgeries. They have traveled from foreign lands to create a better life. They have endured brain cancer, abuse, and poverty. They have given a home to dozens of special-needs children. They have known loss, pain, and fear.
They are survivors. And they share their stories to empower other women who need something – and someone – to believe in.
(Extra)Ordinary Women reminds us of the amazing stories that we find all around us when we open our eyes, hearts, and minds.
And these extraordinary women remind us to never give up, never quit, and never underestimate the power of a woman.
Amazon    Barnes and Noble    Goodreads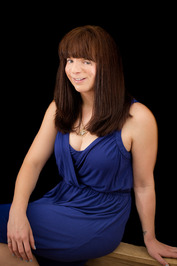 Authors Bio
Kristin Bartzokis is an author, athlete, and blogger.  Born with Treacher Collins syndrome, she offers a unique perspective on life.  She believes in kindness, courage, and strength.  She fights for compassion and lives for the moment.
My Review
5 stars
We all face challenges in our lives. Sometimes those challenges are a lot harder than others. But what really matters is how you face them. This collection of stories shows that we are not alone in our struggles. You will read about ten women's struggles with everything from addiction to cancer to sever injury and so much more. You will follow them on the highs and lows of their journeys and be empowered but how their journey ends.
I find it is so easy to get caught up in our lives and focused on everything that is happening, for good or bad, to us. But we need to step outside ourselves for a while whether it is to take a break from our lives or helping others. This book is a great reminder about how strong we are as women.
This is a great book and one that needs to be read. It's heartbreaking and inspiring at the same time. Definitely one we should keep on our shelves.
I received a complimentary copy of this book. I voluntarily chose to read and post an honest review.
I would like to thank KiCam Projects for the opportunity to read and share this book.