Earthbound Angel Trilogy by Elizabeth Corrigan
Oracle of Philadelphia (Book 1)
Carrie works at a diner in South Philadelphia, dispensing advice to humans and angels wise enough to seek her counsel. But there are some problems that even the best advice can't solve.
Her latest supplicant, Sebastian, is unique among those who have sought her aid. He sold his soul to a demon in exchange for his sister's life, but his heart remains pure.
Carrie has lived for millennia with the knowledge that her immortality is due to the suffering of others, and she cannot bear to see another good man damned when it is within her power to prevent it.
In order to renegotiate his contract, Carrie must travel into the depths of hell and parley with the demons that control its pathways. As the cost of her journey rises, Carrie must determine how much she is willing to sacrifice to save one good soul.
Amazon     Barnes and Noble     Goodreads
My Review
4 stars
Carrie was born with the oracle abilities. The village elders sold her soul to the devil for their own short sighted means which has left her immortal. In the present she helps those that ask her but she covers her abilities by working with a psychic. Then Sebastian walks into the dinner and asks for help to get his soul back. It seems he sold it to save his sister from cancer. Carrie has a soft spot for Sebastian and decides to go to hell and fight for Sebastian's soul.
Prepare to follow Carrie as she gets ready to deal with angels, demons, and archangels. I love the interaction between Carrie, Gabriel, and Bedlam. While they are on their adventure we also revisit the different people Carrie met throughout the years which just helps to add more flavor to this story.
I really enjoyed this book and loved Carrie. She has gone through so much but she still wants to help a pure soul. I have to say Bedlam is my favorite character and I can't wait to read more about him. I can't wait to get into Raising Chaos.
Raising Chaos (Book 2)
When good fails, chaos rises to the challenge.
The daily life of a chaos demon is delightfully sinful—overindulging in Sri Lankan delicacies, trespassing on private beaches in Hawaii, and getting soused at the best angel bar on the planet. But when Bedlam learns that the archdemon Azrael has escaped from the Abyss in order to wreak vengeance against the person who sent her there—Bedlam's best friend, Khet—he can't sit idly by.
Only one relic possesses the power to kill Khet, who suffers immortality at Lucifer's request: the mythical Spear of Destiny, which pierced Christ's side at His crucifixion. Neither angel nor demon has seen the Spear in two thousand years, but Azrael claims to know its location. Bedlam has no choice but to interpret woefully outdated clues and race her to its ancient resting place.
His quest is made nearly impossible by the interference of a persnickety archivist, Keziel—his angelic ex—and a dedicated cult intent on keeping the Spear out of the wrong hands. But to Bedlam, "wrong" is just an arbitrary word, and there's no way he's letting Khet die without a fight.
Amazon     Barnes and Noble     Goodreads
My Review
5 stars
Carrie, or Khet as Bedlam calls her, has moved to a new town and change her name without telling Bedlam any of this information. This is something they have done throughout time so Carrie can get a little alone time. But Bedlam hears that Azrael has escaped the Abyss and has her sights set on Khet. Azrael is pissed at Khet and looking to kill her. But the only thing that will kill the oracle is the Spear of Destiny. Bedlam goes on the hunt through old. Obscure clues to find the Spear of Destiny himself so he won't lose the only person that loves him.
I loved Bedlam from Oracle of Philadelphia and was so excited to see this book was about Khet and him. I love how scattered he is yet how hard he tries to focus to save Khet. But this story is not just from his side. We follow Khet as she is settling into a new town and life. We also follow Siren's angelic stories. All three stories do come crashing together for a completely unexpected ending.
I really like this series. You have a great modern day treasure hunt with the end result being the possible death of the Oracle. I was kept engrossed as we followed the three stories as they converge. And the ending completely threw me. I can't wait to see where this series goes next.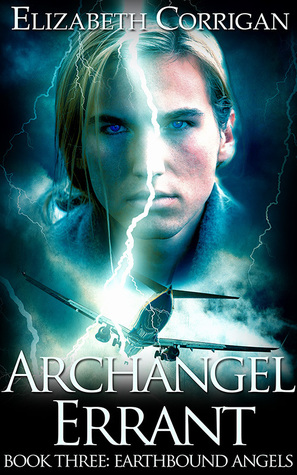 Archangel Errant (Book 3)
Divine intervention isn't all it's cracked up to be.
Gabriel didn't expect his return to Heaven to be filled with trumpets and celebration, but he thought he would do more than sit at Michael's side, listening to endless catalogs of unfulfilled prayers. He's tried blending into every aspect of Heavenly life, but he can't help but feel that the constantly praying Faithful and flower-dispensing Handmaidens lack the motivation to do any true good in the world. Some days, he longs for nothing more than to return to Earth and tell his beloved Cassia how he feels about her.
When Heaven is suddenly attacked, all the angels become trapped in their own nightmares. With Michael gone on an angelic mission, Gabriel must rally the remaining seraphim to rouse the sleeping angels and discover who seeks to take the agents of Heaven out of the celestial battle. All fingers point to Bedlam, but Gabriel can't believe the ex-demon would threaten his salvation so soon after gaining it.
With few people he trusts, Gabriel must rely on all the lessons he learned on Earth to save Heaven, Bedlam, and maybe even himself.
Amazon     Barnes and Noble     Goodreads
My Review
5 stars
Gabriel has been called back to heaven and finds that he doesn't fit in anymore. He has been given the role of listening to endless prayer alongside of Michael. When Michael goes to earth to help Carrie heaven is attacked. Everything looks like it is new angel Bedlam's fault. Gabriel is in charge of figuring out what is going on, who is responsible, and how to stop this attack. Thankfully Bedlam knows what has happened to the angels and how to stop it. They just need to figure out who is behind the attack and stop it.
This is a great series but one that you need to read in order. There is a lot of information that you will be missing if you don't. This story is told through three POV: Michal, Gabriel, and Bedlam. Of course Gabriel and Bedlam have their hands full with the attack in heaven. But the book is really about Michael and Carrie.
Michael hates Carrie and has always been a jerk to her. In this book we see that it is because her ability came from Lucifer. As you learn about this you start to warm up to Michael and see that he is not the jerk that he has come across as through the other two books. It is actually funny to see how this big powerful angel is more human than I thought he could be.
This is a great addition to the series and a wonder fresh point of view with Michael. There are a couple things left open which make it possible to have another book in the series. This is definitely a series with checking out.
Author's Bio
Elizabeth Corrigan has degrees in English and psychology and has spent several years working as a data analyst in various branches of the healthcare industry. When she's not hard at work on her next novel, Elizabeth enjoys singing, reading teen vampire novels, and making Sims of her characters.
She drinks more Diet Coke than is probably optimal for the human body and is pathologically afraid of bees. She lives in Maryland with two cats and a purple Smart Car.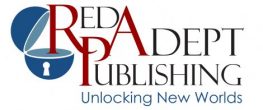 I would like to thank Red Adept Publishing for the opportunity to read and share this series.