Time's Up, Afton (The Afton Morrison Series – 4) by Brent Jones
Some secrets stay buried for a lifetime, but nothing lasts forever.
Connected to a number of high-profile deaths, Afton finds herself not only under scrutiny from the chief of police, but damned in the court of public opinion, as well.
In the aftermath of the fiery assault on Wakefield, a low-level gang has infiltrated the town, flooding its streets with bad drugs, killing several teenagers. As Afton prepares for the final showdown with her tormentor, she marks each gang member as a target for elimination, in a methodical plan to gain the upper hand. What follows is a race against the clock that will keep readers guessing until the very last page, as Afton risks life and limb to fulfill her murderous mission of doing good in the world.
Time's Up, Afton is the fourth and final part in a new serial thriller by author Brent Jones. Packed with grit and action, The Afton Morrison Series delves into a world of moral ambiguity, delivering audiences an unlikely heroine in the form of a disturbed vigilante murderess.
Amazon     Barnes and Noble     Goodreads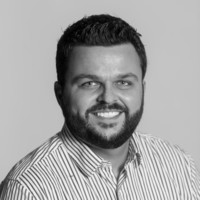 Author's Bio
From bad checks to bathroom graffiti, Brent Jones has always been drawn to writing. He won a national creative writing competition at the age of fourteen, although he can't recall what the story was about. Seventeen years later, he gave up his career to pursue creative writing full-time.
Jones writes from his home in Fort Erie, Canada. He's happily married, a bearded cyclist, a mediocre guitarist, and the proud owner of two dogs with a God complex. Subscribe to his newsletter (AuthorBrentJones.com) or follow him on social media (@AuthorBrentJ) for updates.
My Review
5 stars
Afton has come a long way from the librarian we first met in Go Home, Afton. She has made friends, gained family, learned how crazy her family really is, and taken her murdering desires in surprising directions. Now it's time for the final confrontation with the man in the shadows. But first she has to deal with a meth dealer and his little cronies first.
This has been a great series and I couldn't wait to read the ending but at the same time I didn't really want to leave Afton's world. She starts to come full circle in this story getting closer to the man in the shadows and her crazy family. But there is so much more going on with the media coverage and the drug dealers causing problems.
Of course Afton is embracing her inner killer as she starts to clean everything up. And I will say that the ending is going to blow you out of the water. I was NOT expecting that. But this is an amazing story and one that you need to check out. Just make sure to read the books in order or you will not get the full effect of them.
I received a complimentary copy of this book. I voluntarily chose to read and post an honest review.
I would like to thank the author for the opportunity to read and share this book.