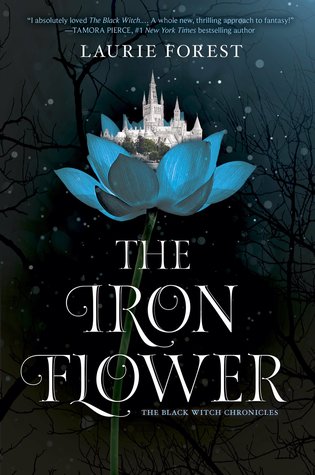 The Iron Flower (The Black Witch Chronicles – 2) by Laurie Forest
Elloren Gardner and her friends were only seeking to right a few wrongs, but their actions have propelled them straight into the ranks of the realm-wide Resistance against Gardnerian encroachment. As the Resistance struggles against the harsh rulings of High Priest Marcus Vogel and the Mage Council, Elloren begins to realize that none of the people she cares about will be safe if Gardneria seizes control of the Western Realm.
With tensions heating up in Verpacia, more and more Gardnerian soldiers continue to descend upon the university…led by none other than Lukas Grey, now commander of the newly rebuilt Fourth Division base. Though Elloren tries to keep him at arm's length, Lukas is determined to wandfast to her, convinced that she has inherited her grandmother's magic—the prophesied power of the Black Witch. As his very nearness seems to awaken a darkness inside her, Elloren finds it more and more difficult to believe that she's truly powerless, as her uncle always claimed.
Caught between her growing feelings for the rebellious Yvan Guriel and the seductive power offered by Lukas Grey, Elloren must find a way to stay true to what she knows is right and protect everyone she loves…even if that means protecting them from herself.
Amazon     Barnes and Noble     Goodreads
About the Author
Laurie Forest lives deep in the backwoods of Vermont where she sits in front of a wood stove drinking strong tea and dreaming up tales full of dryads, dragons and wands. The Black Witch (Book 1.0, The Black Witch Chronicles – OUT NOW) & Wandfasted (Book 0.5, The Black Witch Chronicles Prequel) are her first published novels. Coming in 2018 are Light Mage (Book 1.5, The Black Witch Chronicles) & The Iron Flower (Book 2.0, The Black Witch Chronicles). She is currently ensconced in the woods, hard at work on The Shadow Dryad (Book 3.0, The Black Witch Chronicles).
My Review
3 stars
Elloren Gardner is the granddaughter of the last Black Witch but has no powers of her own. She has also lived a semi sheltered life and is unaware of a lot of the various races except for her small village teachings. She has learned the hard way that the Gardnerian's have abuse and exploited these races over the years especially with the help of her grandmother. Now the various races are ready to fight back to gain their freedom.
Elloren has been verbally and physically abused since she looks just like her grandmother and that she is a Gardnerian. But she has had enough of how the other races have been treated and joins the resistance to help fight with them. But she also has her own challenges to face. The mage counsel has deemed it that anyone not wand fasted by 16 years of age will be fasted to whom they deem fit, Aunt Vyvian is going to get her wish one way or another.
I would have had no problem with this book if that is the main content. But I have to say the whole love triangle with Yvan got to be so irritating. I'm not a fan of love triangles anyway but this one just bogged the story down. I almost just put the book down then. But I persisted and the story did get better.
I will say that there were some unexpected moments that kept things interesting and the ending was a surprise. That was a good twist although I kinda had that one pegged. Overall it continued the story on from The Black Witch and expanded the world a little. I don't know if I want to continue this series, I'm going to have to think about it for a little bit.
I received a complimentary copy of this book. I voluntarily chose to read and post an honest review.
I would like to thank Publisher for the opportunity to read and share this book.