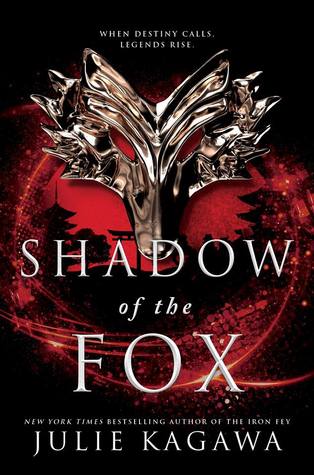 Shadow of the Fox (Shadow of the Fox – 1) by Julie Kagawa
One thousand years ago, the great Kami Dragon was summoned to grant a single terrible wish—and the land of Iwagoto was plunged into an age of darkness and chaos.
Now, for whoever holds the Scroll of a Thousand Prayers, a new wish will be granted. A new age is about to dawn.
Raised by monks in the isolated Silent Winds temple, Yumeko has trained all her life to hide her yokai nature. Half kitsune, half human, her skill with illusion is matched only by her penchant for mischief. Until the day her home is burned to the ground, her adoptive family is brutally slain and she is forced to flee for her life with the temple's greatest treasure—one part of the ancient scroll.
There are many who would claim the dragon's wish for their own. Kage Tatsumi, a mysterious samurai of the Shadow Clan, is one such hunter, under orders to retrieve the scroll…at any cost. Fate brings Kage and Yumeko together. With a promise to lead him to the scroll, an uneasy alliance is formed, offering Yumeko her best hope for survival. But he seeks what she has hidden away, and her deception could ultimately tear them both apart.
With an army of demons at her heels and the unlikeliest of allies at her side, Yumeko's secrets are more than a matter of life or death. They are the key to the fate of the world itself.
Amazon     Barnes and Noble     Goodreads
About the Author
Julie Kagawa, the New York Times bestselling author of the Iron Fey and Blood of Eden series was born in Sacramento, California. But nothing exciting really happened to her there. So, at the age of nine she and her family moved to Hawaii, which she soon discovered was inhabited by large carnivorous insects, colonies of house geckos, and frequent hurricanes. She spent much of her time in the ocean, when she wasn't getting chased out of it by reef sharks, jellyfish, and the odd eel.
When not swimming for her life, Julie immersed herself in books, often to the chagrin of her schoolteachers, who would find she hid novels behind her Math textbooks during class. Her love of reading led her to pen some very dark and gruesome stories, complete with colored illustrations, to shock her hapless teachers. The gory tales faded with time, but the passion for writing remained, long after she graduated and was supposed to get a real job.
To pay the rent, Julie worked in different bookstores over the years, but discovered the managers frowned upon her reading the books she was supposed to be shelving. So she turned to her other passion: training animals. She worked as a professional dogtrainer for several years, dodging Chihuahua bites and overly enthusiastic Labradors, until her first book sold and she stopped training to write full time.
Julie now lives in Louisville, Kentucky, where the frequency of shark attacks are at an all time low. She lives with her husband, two obnoxious cats, one Australian Shepherd who is too smart for his own good, and the latest addition, a hyper-active Papillon.
My Review
4 stars
Whomever hold the Scroll of a Thousand Prayers can summon the Kami Dragon to grant a single wish. To keep it safe, the scroll was broken up into several pieces and scattered across the land. But now there are those that are gathering the scroll by any means necessary to get their wish.
Yumeko is half kitsune and half human. She has some simple magical abilities and was raised by the monks at the Silent Winds temple. But one day she returns home to find demons slaughtering the monks. She is given the task of taking the scroll to another temple. Although she doesn't know how to begin to fulfill this request she finds a samurai warrior and has him promise to help her get to the temple.
Kage Tatsumi is a samurai with the Shadow Clan and the bearer of a cursed sword that kills demons. His main purpose in life is to kill demons. But he is sent to the Silent Winds temple to find a scroll. He runs into Yumeko and agrees to help her. Together they are going to face demons, witches, people, and so many other challenges on their way to the temple.
I liked this story and all the Japanese mythology although the creatures seemed to just keep coming and I was having to look them up all the time. This drew me away from the story. You also have the starts of a relationship between Yumeko and Tatsumi. It seems to be doomed since Tatsumi has been trained to be a weapon and has to control whatever emotions he has or the demon of the sword takes control.
Over all I think this is a good start to a new series. It has potential and I'm curious to see where it goes from here.
I received a complimentary copy of this book. I voluntarily chose to read and post an honest review.
I would like to thank the Publisher for the opportunity to read and share this book.