Phoenix Unbound (Fallen Empire – 1) by Grace Draven
A woman with power over fire and illusion and an enslaved son of a chieftain battle a corrupt empire in this powerful and deeply emotional romantic fantasy from the USA Today bestselling author of Radiance.
Every year, each village is required to send a young woman to the Empire's capital–her fate to be burned alive for the entertainment of the masses. For the last five years, one small village's tithe has been the same woman. Gilene's sacrifice protects all the other young women of her village, and her secret to staying alive lies with the magic only she possesses.
But this year is different.
Azarion, the Empire's most famous gladiator, has somehow seen through her illusion–and is set on blackmailing Gilene into using her abilities to help him escape his life of slavery. And unknown to Gilene, he also wants to reclaim the birthright of his clan.
To protect her family and village, she will risk everything to return to the Empire–and burn once more.
Amazon     Barnes and Noble     Goodreads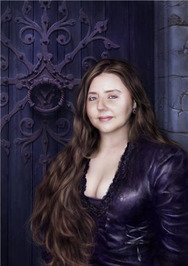 Author's Bio
I'm an author and Louisiana native living in Texas with my husband, three smalls and a big doofus dog. I have lived in Spain, hiked the Teton Mountains, honeymooned in Scotland, ridden in competition rodeo and am the great great granddaughter of a Nicaraguan president. I also hate doing laundry and refuse to iron anything.
I've loved storytelling since forever. I published my first short story with Amber Quill Press and have since written several other tales. A love of the bad boy in fiction always inspires me.
My Review
5 Stars
Every year each of the villages in the Empire must chose a young girl for tribute. The girls are brought to the Empire's capital where they are taken by the gladiators then burned alive the next morning. For the last several years Gilene is her village's tribute. She is a fire witch and can change her appearance. The villagers threaten her family to keep her in this charade.
Azarion is the most famous gladiator the Empire has. He has survived in the ring and in the empress's bedroom and has suffered both physically and mentally. Since he is the top gladiator he gets first pick of the girls and has come to realize that the one girl is the same person he has seen for the last couple years. He comes up with a plan to make her help him reclaim his birthright in his clan.
This is a dark story but amazing. Gilene is a strong woman and has to be with what she puts herself through. She is willing to play this charade just to keep her family safe. When Azarion figures out who she is he doesn't really give her the chance to argue, he essentially makes her help him.
Beside that portion of the story, what was really amazing was the romance that developed between Gilene and Azarion. It was sweet, caring, and perfect for what the two of them has gone through.
This is an amazing romantic fantasy that will draw you in to this brutal world, fill you with hope, and leave you wanting more. I can't wait to read more about this world.
I received a complimentary copy of this book. I voluntarily chose to read and post an honest review of this book.
I would like to thank Penguin Random House for the opportunity to read and share this book.