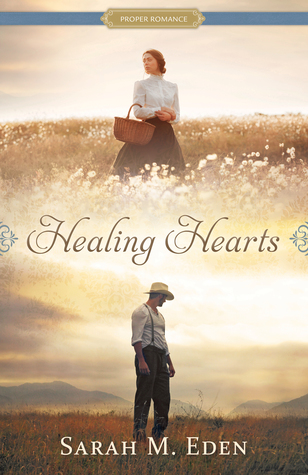 Healing Hearts (Savage Wells – 2) by Sarah Eden
Wyoming Territory, 1876
As the only doctor in the frontier town of Savage Wells, Gideon MacNamara knows his prospects for a bride are limited. The womenfolk in town are either too young, too old, or already spoken for. So, being a practical man, he decides to take advantage of the matchmaking service of the day—mail-order brides—and sends away for a woman with nursing experience.
When Miriam steps off the stagecoach in Savage Wells, she sees a bright future in front of her. But when the town—and Gideon—meets her, ready for a wedding, her excitement quickly turns to horror. Somehow Dr. MacNamara's message had gotten turned around. He didn't want a nurse, he wanted a wife. When she refuses to marry him, she finds herself stranded in Savage Wells with some very unhappy townspeople.
But Gideon is not like the other men Miriam has met. Embarrassed by the misunderstanding, he offers her a job, and the two begin an awkward—and often humorous—dance of getting to know each other as they work to care for the people of their town. Romance blossoms between the two, but when a former medical associate of Miriam's arrives in town, Gideon and the other townsfolk must rally around Miriam to protect her from a dangerous fate. Gideon and Miriam must decide if they are willing to risk their hearts for each other even as buried secrets are brought to light.
Amazon     Barnes and Noble     Goodreads
About the Author
Sarah M. Eden is a USA Today Bestselling author of witty and charming historical romances, including Foreword Review's 2013 "IndieFab Book of the Year" gold medal winner for Best Romance, Longing for Home, as well as 2014 Whitney Award winner for "Best Novel of the Year," Longing for Home: Hope Springs. Combining her obsession with history and affinity for tender love stories, Sarah loves crafting witty characters and heartfelt romances set against rich historical backdrops. She holds a Bachelor's degree in research and happily spends hours perusing the reference shelves of her local library. Sarah lives with her husband, kids, and mischievous dog in the shadow of a snow-capped mountain she has never attempted to ski.
My Review
5 Stars
Gideon MacNamara is the area doctor in the little town of Savage Wells. He has had one heck of a time trying to find a wife so he decides to send away for a mail order bride with nursing skills. On the other side of the country Miriam thinks she is just being hired as a nurse since some selective information was not shared with her. Imagine her surprise when she showed up to town and everyone is ready to usher her into the church for a marriage.
Things go south when Miriam is running from the wedding but she comes around and works out a deal with Gideon to be his nurse. What follows is a sweet and slowly budding romance between the two of them. She also starts to woo the town's folks too. But then her past comes hunting her down in the worst way possible. Thankfully she has the support of Gideon and the town to help her out.
This is my first book from author Sarah Eden but I had no problem getting into this story. I loved the little, close knit town and did feel bad for them when the wedding was called. But I love how they all come together to help out Miriam. As for Miriam and Gideon, there are a sweet couple and I loved how they slowly built the relationship.
If you like historical romances I strongly recommend checking this book out. This is not my usual genera but I'm really glad that I had to chance to read this book. I am even going to get the first book to see what I missed.
I received a complimentary copy of this book. I voluntarily chose to read and post an honest review.
I would like to thank Shadow Mountain Publishing for the opportunity to read and share this book.