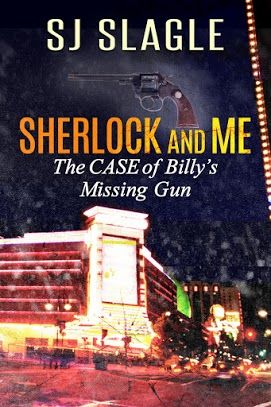 Date Published:
March 2019
Super sleuth Lucy James is hired to find the Colt pistol that may have belonged to Billy the Kid. Hampered by dishonest weapon experts, a pawnshop murder and unusual architecture at a downtown casino, her investigation is rocky at best. A massive snowstorm has blanketed Reno leaving Lucy to slog her way to interviews with uncooperative witnesses. Her father's abrupt firing from his job as the host of a local children's television show and the impending marriage between her best friend Cindy Floyd and her detective fiancé Skip Callahan grab chunks of Lucy's fleeting attention. But she is determined to find the missing gun before the next snowstorm even though she on and off relationship with handsome professor Eric Schultz is off again. With sheer tenacity and a pair of thick snow boots, Lucy muscles through to the mystery's resolution. It isn't easy but the mystery and murder never are.
About the Author
SJ SLAGLE started her writing career as a language arts teacher. Her initial interest was children's stories, but she moved on to western romance, mysteries, and historical fiction. She has published 24 novels, both independent and contract. SJ contributes regularly to guest blogs and has her own blog called anauthorsworld.com in which she discusses the research involved in the books she writes. SJ has established Twitter and Facebook fan bases, a quarterly author newsletter and a website under her pseudonym: JEANNE HARRELL at jeanneharrell.com.
Her first historical fiction novel, LONDON SPIES, was awarded a B.R.A.G. Medallion in 2018 and Slagle was a finalist in the 2017 UK Independent Book Awards. She was given the Silver Award with the International Independent Film Awards for her screenplay called REDEMPTION. SJ conducts writing/publishing symposiums in her local area. OSLO SPIES, her second historical fiction novel will be published in September. She lives and works in Reno, Nevada.
Lucy James is a PI in Reno, NV. Things have been slow lately until a man comes into her office complaining about something being stolen. Patrick Walker found an antique gun in an estate sale and had brought it to the pawn shop next door to Lucy's office for appraisal. But when he came back he learned that the pawn show was robbed and his gun was taken.
Lucy is on the case to find the missing gun that could be Billy the Kids gun. But there is more to this story than a simple robbery. Lucy also has her hands full with her best friend (and Watson) Cindy getting married to Skip and her father being fired from his local kids show. And let's not forget how Cindy is trying to get Lucy hooked up with Skip's friend Eric.
This is a great little mystery that had me hooked until the end. I love how everything came together. Lucy's personal life is also full of activity with her afraid that she is losing Cindy and not knowing what to expect from her father.
This is a great cozy mystery and one that I recommend checking out. This is the first book that I have read from SJ Slagle but it won't be my last. I really love how it took place in my hometown. I love reading books based in the areas that I live.
I received a complimentary copy of this book. I voluntarily chose to read and post an honest review.
Enter for your chance to win a $5 Amazon Gift Card