I Know You by Erik Therme
Sisters Bree and Alissa Walker share a special bond. Neglected by their parents, they have always looked out for one another. But one day, sixteen-year-old Alissa goes missing. When Bree discovers her green backpack with all her belongings, abandoned on the steps of their run-down trailer, she knows that something bad has happened …
Then she receives a chilling text message. Someone has Alissa. But Bree will have to give up something very precious in exchange.
Desperate to save Alissa, Bree looks at everyone close to their family. She's sure that Alissa's best friend is keeping something back about her little sister and a boy at school, and why has their estranged uncle, who they've not seen in years, been hanging around again?
It soon becomes clear that the person behind the message knows a lot about the dark truths within the Walker family and will go to any lengths to get revenge. And as the search for Alissa continues, Bree discovers something about her brother Tyler that she wishes she hadn't, a dangerous secret, which is also the key to bringing her little sister back home …
Amazon     Barnes and Noble     Goodreads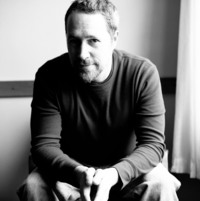 About the Author
Erik Therme has thrashed in garage bands, inadvertently harbored runaways, and met Darth Vader. When he's not at his computer, he can be found cheering on his youngest daughter's volleyball team, or watching horror movies with his oldest. He currently resides in Iowa City, Iowa—one of only twenty-eight places in the world that UNESCO has certified as a City of Literature. Join Erik's mailing list to be notified of new releases and author giveaways here.
My Review
4 Stars
Bree, Taylor and Alissa grew up without a father and a mother that is working all the time. Bree has essential taken care of her siblings from the very beginning. Bree has returned how to find Alissa's backpack on the porch and then received a text message confirming that someone has kidnapped Bree. Bree goes on the hunt for both Alissa and Taylor but discovers the kidnapper knows more about her family and is determined to get some revenge.
Bree is making the best of a rough situation when she get a text message that puts her on the race to save her little sister. As we follow along we start learning the bad and horrible about the Walker family. We are also kept on our toes trying to figure out who the kidnapper could be.
This is a great thriller that sucked me in and kept me in its grasp until the mad dash to the end. This is a great thriller and one to check out.
I received a complimentary copy of this book. I voluntarily chose to read and post an honest review.
I would like to thank The Author and Netgalley for the opportunity to read and share this book.