The Lost Sentinel (Book 1)
The magical island of Kalaya is dying, along with its Sentinel.
The Assembly controls Kalaya. Originally set up to govern, they now persecute those with magic and exile them to the Turrak Mountains.
Tei, a tailor's daughter, has always hidden her magic but when her father's old friend visits and warns them to flee to the mountains she must leave her old life behind.
On the journey, an attack leaves her father mortally wounded. He entrusts her into the care of the exiles and on his deathbed makes a shocking confession.
Struggling with self doubt, Tei joins the exiles search for the new Sentinel who is the only person capable of restoring the fading magic. But mysterious Masked Riders are hunting the Sentinel too, and time, as well as hope, is running out.
Against mounting odds it will take friendship, heartache and sacrifice for the exiles to succeed in their quest, but is Tei willing to risk everything to save the island magic?
Amazon US     Amazon UK      Barnes and Noble     Goodreads
My Review
4 Stars
We start this story on the island of Kalaya, which is an island that is slowly dying. There a group of people called the Assembly has the rule of the land and enforces that any magic user needs to be killed since they are the ones killing the land. We meet Tei, a tailor's daughter that has magic and has been using it since she was young.
One day her magic is discovered and her and her father must go on the run to the mountains where the exiles live, other magic users. But the trip is perilous and they are attacked. She is told by her father that the Sentinel, who can restore the land and magic, needs to be found.
At the same times we also follow a young man that takes his father's place on the Assembly. He has a secret, a young woman on his farm uses magic and he wants to keep her safe no matter what the cost. We also follow a young man from the island of Stone Haven, a brutal place where people rely on raiding to survive. A young commander finds himself draw into war with Kalaya and the magic users.
There is a lot going on in this book besides just the world building. I loved this world and how it was written without a huge info dump. I loved the concept of twisting people's beliefs of magic users into fear to control. I felt for Tei and her father and was saddened by her loss. But Tei has a lot to accomplish to find the new Sentinel.
Although it was nice to see the world from other's eyes I think this drew away from Tei's story. I wanted to see more of her growth in this world. But it does show that there is so much more happening than just the exiles and the rest of the population.
I think this is a great start to a new series. I am very curious to see what happens in the next book and recommend anyone that likes fantasy stories to check this book out.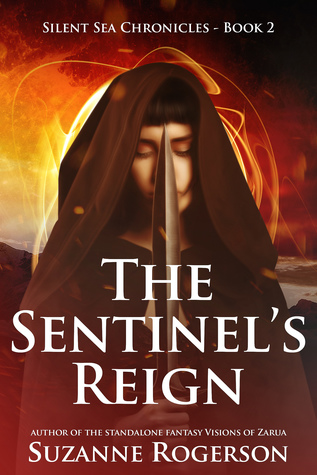 The Sentinel's Reign (Book 2)
The Sentinel's reign is doomed to failure unless Tei can prevent the Kalayan people from plunging into war.
With the new Sentinel initiated and the magic restored on Kalaya, life is flourishing for Tei and the exiles. But Rathnor's plans for war soon escalate and thwart any chance of peace.
Brogan's position on the Assembly is uncertain as rumours circulate that he is an exile spy.
After an attempt on his life, Farrell is more determined than ever to build a home for his people on Stone Haven. But the council have their sights set on Kalaya and Farrell struggles to steer them from war.
As trouble brews within and outside forces gather against them, can the exiles keep their hold on the magic, or will this spell the end of Kalaya and its people?
Amazon US     Amazon UK     Barnes and Noble     Goodreads
My Review
4 Stars
Although the Sentinel has been found and magic restored to Kalaya, things are not as great as they first appear. Prejudice and mistrust run deep and not everyone is accepting of those that use magic. There are those that are still planning on a war and won't be swayed from their goals. Then you have the young man that is still trying to keep his own home going but will he be able to keep war from happening?
Let me start by saying that I recommend reading these books in order. You hop right into the story and will miss some stuff without reading book one. I loved coming back to this world. Things seem to be going better but not perfect. There are still those that hate the exiles and want to end them. You have relationships breaking and rebuilding stronger. And you have those dealing with loss and what to do with their futures.
I really like how those raveled frayed endings from the first book are wrapped together and some of my questions answered. We find an end to one conflict but so many more waiting to strike in the shadows. But I really liked finding out where Rathnor's hatred for the exiles comes from.
This is a great series and one that any fantasy lover will enjoy. Now I can't wait to read the last book, Sentinel's Alliance to see how this finally ends.
I received a complimentary copy of both of these book. I voluntarily chose to read and post an honest review for both books.
For the duration of the blog tour all books in the Silent Sea Chronicles series are $.99.
Author Bio
Suzanne lives in Middlesex, England with her hugely encouraging husband and two children.
She wrote her first novel at the age of twelve. She discovered the fantasy genre in her late teens and has never looked back. Giving up work to raise a family gave her the impetus to take her attempts at novel writing beyond the first draft, and she is lucky enough to have a husband who supports her dream – even if he does occasionally hint that she might think about getting a proper job one day.
Suzanne loves gardening and has a Hebe (shrub) fetish. She enjoys cooking with ingredients from the garden, and regularly feeds unsuspecting guests vegetable-based cakes.
She collects books, loves going for walks and picnics with the children and sharing with them her love of nature and photography.
Suzanne is interested in history and enjoys wandering around castles. But most of all she likes to escape with a great film, or soak in a hot bubble bath with an ice cream and a book.
Website     Twitter     Facebook     Goodreads     Amazon Author Page     Bookbub
Breaking News….
The Sentinel's Alliance, book 3 of Silent Sea Chronicles is now available on pre-order.
Can new alliances save the islands of the Silent Sea from the murderers stalking their shores?
As the island of Kalaya and its people recover from civil war, a new threat surfaces. Invaders from the island of Elkena hunt the seas, butchering those who possess magic. Their scar-faced captain seeks the Fire Mage who it has been foretold will kill him and Tei and her people are in his warpath.
Tei and a band of Kalayans travel to Stone Haven, the home of their new allies, planning to restore magic to the dead island. But the Stone Haven Council have abhorred magic since their people were massacred by Elkenan invaders twenty years before. Commander Farrell must persuade his people to accept magic again, but his plans expose them to their biggest fear and he risks leading Tei and her people into danger, and jeopardising the safety of both their islands.
Under Farrell's guidance treaties are forged, but is the newly formed Silent Sea Alliance enough to defeat the invaders and stop their bloodthirsty quest to destroy magic forever?
The Sentinel's Alliance is the final book in the Silent Sea Chronicles trilogy.
I would like to thank Rachel's Random Resources for the opportunity to read and share these books.