Dorothy and the Glass Key by Christopher Finn
14-year-old Dorothy Alston had to grow up fast when her father's alcohol-induced carelessness resulted in a house fire that claimed her mother's life. She finds a new life on her uncle's farm in Florida…but not for long. Now, thirty-four years later, Dorothy's in a permanent vegetative state and it's up to Ellen Steward – the hard-working, slightly jaded administrator at an upscale rehab facility – to unravel the mystery that landed Dorothy in this condition. With some unexpected help, Ellen unwinds Dorothy's fantastical narrative. It begins with a strange glass key that leads Dorothy to worlds that exist between time and space. She awakens a dark creature who feeds on the pain of the young. Ellen discovers that even she is wrapped up in Dorothy's strange saga. If she wants to save her, Ellen will have to give up everything. But if she fails, much more is at stake than anyone could have imagined.
Amazon     Barnes and Noble     Goodreads
About the Author
Christopher J. Finn has long been a fan of things that are quirky, odd and dark, believing those aspects make for the best stories. Dorothy and the Glass Key, his debut novel, falls right into those categories.
Christopher J. Finn lives in Missouri with his wife and three kids. When he isn't writing his next novel, he is painting, woodworking, playing PS4 with his pre-teens or watching the latest supernatural thriller show with his wife, his dogs, and pet leopard gecko.
Dorothy and the Glass Key 2nd edition is now available.
My Review
5 Stars
We start this story at a mental health facility where rich Ragesh Dutta has brought his ward Dorothy. Ellen is the administrator but figures if Ragesh is willing to pay she has no problem letting him. Then Ragesh starts telling Ellen Dorothy's story. When Dorothy was 14 years old a fire killed her mother. Together her father and she move to Florida to live on her uncle's farm. Things are strained between the two since Dorothy blames her mother's death on her father.
When Dorothy discovers a key that will transport her to other worlds she is excited for the escape. At first Dorothy loves her new friends and the escape but as time goes on we learn that there is a dark side to these worlds, one where a creature feeds off children.
Oh my, where to begin? The first thing I want to say is not to think this is a Wizard of Oz type story, yes I made that mistake. This is a whole new world of wonders and darkness. Dorothy has lost her mother and blames her father. It was hard to read this part because both have lost someone and Dorothy wants to blame someone. Of course she is going to jump at the escape, I didn't blame her. The fantastic worlds he found herself in along with Charlie and Ragesh make the adventures more and more addicting. When we meet Spintwister I was creeped out. He was clearly insane, the perfect bad guy, and I hoped that they three friends could find a way to stop him.
This is a great read and has many things that teens will relate to. I loved the story and all the twists and turns. Dorothy and the Glass Key is a first book from author Christopher Finn and it is executed wonderfully. This is a book I recommend checking out. I can't wait to see what else Christopher is going to come up with.
I received a complimentary copy of this book. I voluntarily chose to read and post an honest review.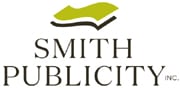 I would like to thank Smith Publicity for the opportunity to read and share this book.