The Haunting at Paradise House by Killian Wolf

If you were given the chance to become a powerful sorceress, would you leave behind everything you thought you knew?
When Addison is offered the position of her dreams through a mysterious phone call, she rises to the occasion and moves to the Florida Keys to a mansion called Paradise House. Footsteps from playful ghosts, a room of killer dolls, and an all too intelligent owl lead her to the mysteries that lie within the walls, to reveal the true reason behind her invitation. When dark forces get a hold of her and her patient, Addison is left with no choice but to take extreme measures to protect the ones she loves. Will Addison be able to acquire the necessary skills fast enough in order to protect her patient, and defeat the evil entities that thrive in the mansion?
Amazon UK     Amazon US     Barnes and Noble     Kobo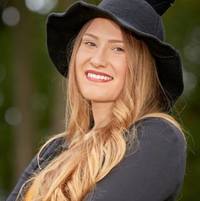 Author Bio
Killian Wolf is a Miami, FL native who enjoys pirates, rum, and skulls as much as she loves writing about dark magick and sorcerers. She holds a Bachelor of Arts degree in Cultural Anthropology and Sociology and a Master of Science in Environmental Archaeology and Palaeoeconomy.
Killian writes books about obtaining magickal powers and stepping into other dimensions. She lives in England with her husband, a tornado of a cat, and the most timid snake you'd ever meet.
When she isn't writing, you might find her at an Archaeological dig, rock climbing, or sipping on dark spiced rum while working on a painting.
My Review
4 Stars
Addison is given the opportunity to be a live in nurse for Dax's father, Orlando. But strange things are happening at the house and it's clear that a demon is after Orlando. Addison meets Ambrose in the worst way possible but it is clear that there is something going on with Ambrose and Dax and that it involves Addison. They are going to have to work together to stop the demon, and help both Dax and Ambrose with their problems.
This is one of those stories that I want to write a summary of the book but then I would be giving too much of the story away. Addison, Dax, and Ambrose has some much going on with each other. Addison lost her parents at an early age and although freaked out she still stays to protect Orlando. Dax and Ambrose have their own problems but they are also interconnected. They have very limited time to finish their tasks but then again you can't really rush what needs to be done.
I hope I have been vague enough to make you curious about the story without giving too much away. This is a great read that I quickly got into and had a hard time putting down. I was cheering for the trio and on the edge of my seat hoping all would work out. This is definitely a great story and one to check out.
I received a complimentary copy of this book. I voluntarily chose to read and post an honest review.
Enter to Win a paperback copy of The Haunting at Paradise House (UK Only)
https://widget-prime.rafflecopter.com/launch.js
*Terms and Conditions –UK entries welcome.  Please enter using the Rafflecopter box below.  The winner will be selected at random via Rafflecopter from all valid entries and will be notified by Twitter and/or email. If no response is received within 7 days then Rachel's Random Resources reserves the right to select an alternative winner. Open to all entrants aged 18 or over.  Any personal data given as part of the competition entry is used for this purpose only and will not be shared with third parties, with the exception of the winners' information. This will passed to the giveaway organiser and used only for fulfilment of the prize, after which time Rachel's Random Resources will delete the data.  I am not responsible for despatch or delivery of the prize.
I would like to thank Rachel's Random Resources for the opportunity to read and share this book.