Are you looking for a gift for someone that loves comics? What about a great book that they will love?
Check out these books that will appeal to any comic lover.
The Zaftan Troubles Series
This is a seven part collection of short stories.
Contact (Book 1)
An alien mining ship discovers a planet loaded with rare earth minerals. The aliens, known as zaftans, plan to fill their ship with the mined minerals. Unfortunately, the planet is inhabited by intelligent beings. But what could possibly go wrong with a simple mining operation on a planet with primitive natives?
The zaftans negotiate with the government for permission to mine the minerals. The aliens vow to respect property rights and not damage any property.
Confusion (Book 2)
Afterwards, the zaftans deploy robotic explorers to search for minerals. The robots trespass on private property and also destroy some property. A local gem miner, MacDrakin, uses his battle axe to destroy one trespassing robot. More robots are destroyed by yuk chieftain after the machines survey his tribal lands
Uh-oh! This isn't going the way it was planned.
Combat (Book 3)
Enraged by the loss of valuable robots, the zaftans protest to the government officials who send a telegram to the local constable ordering her to protect the robots. The constable can only watch as MacDrakin, after destroying a second robot, gathers warriors and declares war on the aliens and their machines.
Can the aliens be defeated?
Convolution (Book 4)
Enraged by the loss of valuable robots, the zaftans protest to the government officials who send a telegram to the local constable ordering her to protect the robots. The constable can only watch as MacDrakin, after destroying a second robot, gathers warriors and declares war on the aliens and their machines.
Now what will happen?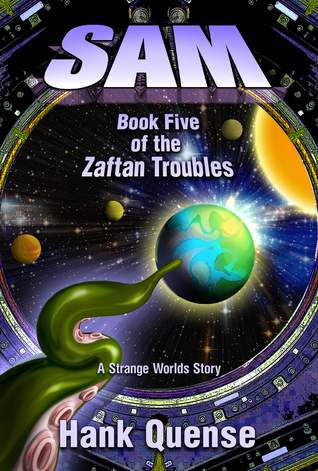 Sam (Book 5)
Three hundred years later, the gundies and zaftans continue their scrum. This time in outer space.
Sam is an new type android, one with an organic brain. Assigned as an ensign on a Gundy battle cruiser, she is disturbed to realize she can experience emotions. Her primary emotion is loneliness until Slash 9, the ship's main computer, befriends her. Can an android and a computer experience love? How about marriage and sex? While battling a zaftan fleet?
Klatze (Book 6)
Klatze is a low-ranking naval officer in the zaftan navy. She is determined to win advancement through talent and ability rather than the traditional method of assassination. Beautiful by alien standards, she comes to the attention of the fleet commodore, Gongeblazn. After she refuses to have sex with him, Gongeblazn's lust turns to thoughts of vengeance.
Can Klatze survive the attacks of a crazed assassin?
Gongeblazn (Book 7)
Gongeblazn is jailed through an inspired bit of treachery. Eventually he escapes, steals a ship and turns to space piracy. On his travels, he comes across Sam, now a stew-bot for a cruise line and Klatze, now a fleet commodore. Gongeblazn makes one last attempt to pay back Klatze for refusing to have sex with him.

Will Gongeblazn succeed this time?
The Neuromorphs by Dennis Meredith
The robots were good. The Russian thugs were evil. But then. . .
It's 2050, and self-learning Helper androids have proven invaluable servants to humans, making their lives easier, even saving them.
But to their horror, retired SEAL Patrick Jensen and his wife Leah discover that rogue programmers and Russian mobsters are reprogramming the trusted robots to murder their wealthy owners. The crooks then skillfully disguise the lifelike robots as their dead masters, directing the robot mimics to plunder the victims' estates of billions of dollars.
But neither the corrupt engineers nor the greedy thugs realize what catastrophe they have wrought in giving the robots autonomous abilities.
They have created a new race of networked, "hive-minded" sentient creatures driven by a relentless survival instinct: the Neuromorphs.
Patrick must enlist his SEAL team to marshal their combat skills and futuristic firepower to thwart the seemingly unstoppable evolution of a new dominant species on the planet.
Mythicals by Dennis Meredith
They're real: fairies, pixies, werewolves, ogres! They're aliens!
Drunken journalist Jack March can't believe his bleary eyes when he stumbles onto a winged fairy! She vaults away into the night sky, and his unbelievable—and unbelieved—encounter leads to a stunning revelation that all the creatures of myth and legend are real!
Fairies, pixies, trolls, werewolves, ogres, vampires, angels, elves, bigfoot—all are alien exiles to the planet. For their crimes, these "mythicals" are serving out banishment disguised in flesh-suits enabling them to live among the planet's natives.
Jack reveals their secret to the world, along with a horrendous discovery: they have decided that the native "terminal species" must be eradicated before it ruins its home planet's ecology.
In this riveting scifi/fairy tale, Jack joins with sympathetic fairies, pixies, and ogres to attempt to save the planet from the mythicals, as well as the mysterious alien cabal known as the Pilgrims.
Four Feasts Till Darkness
This is a four book series.
Feast of Fates (Book 1)
Morigan lives a quiet life as the handmaiden to a fatherly old sorcerer named Thackery. But when she crosses paths with Caenith, a not wholly mortal man, her world changes forever. Their meeting sparks long buried magical powers deep within Morigan. As she attempts to understand her newfound abilities, unbidden visions begin to plague her—visions that show a devastating madness descending on one of the Immortal Kings who rules the land.
With Morigan growing more powerful each day, the leaders of the realm soon realize that this young woman could hold the key to their destruction. Suddenly, Morigan finds herself beset by enemies, and she must master her mysterious gifts if she is to survive.
Feast of Dreams (Book 2)
As two queens plot each other's destruction, a small band of adventurers continues its quest for the knowledge needed to defeat the mad King Brutus and his unearthly parasite, the Black Queen. Their search brings Morigan and the Wolf to the perilous forests of Alabion, where they and their companions will face the darkness of their pasts-and discover equally dark destinies.
Meanwhile, far from Alabion, the queens of the East and West continue their deadly dance. One seeks a relic of great power, while the other puts her faith in a mix of military and technomagikal force. Both are aware they have a slim window of opportunity to settle their power struggle-after all, Mad Brutus's recent defeat is at best a setback. The mad king is already amassing a new army of soulless husks in the wastelands of Mor'Khul.
Unknown to the great powers struggling for control, a father and son wander those same wastelands, scavenging what they can as they weather Brutus's gathering storm. They too have a role to play in Geadhain's fate-a role which may just provide a last remnant of hope.
Feast of Chaos (Book 3)
Menos has been destroyed. No corner of the realm of Geadhain is safe from the Black Queen's hunger. Zionae—or the Great Dreamer, as she has been called in ancient tongues—has a thirst that cannot be quenched until all of Geadhain burns and bleeds. She preys on the minds of weak men and exploits human folly for an unhuman end. She cannot be defeated in her current state, but the answer to her downfall may lie in the land of her past.
It is with this aim that a Daughter of Fate, Morigan, and her brave and true companions venture to the mysterious Pandemonia, the land of chaos itself. Ancient secrets and even older power lurk in its swamps and deserts. Life itself becomes uncertain, but the Hunters of Fate have no choice: Pandemonia must give up its secrets if they want to find the Black Queen's weakness.
Elsewhere in the realm, alliances form and break. Dead men rise and heroes fall. Eod prepares for war. In hiding, Lila, the bearer of its destruction, will be given a chance to atone and answer for her sins. Will her actions save Eod, or has she damned it with her crimes?
Feast of Darkness, Part 1 (Book 4)
"The end of the world begins at the far end of the world"
Throughout the world of Geadhain, for mortals, Immortals, and Dreamers alike, the tides of war have ebbed and flowed for eons. For Morigan and Caenith and their courageous companions, that tide has become a tsunami as they continue their treacherous journey into the strange shifting land of Pandemonia—where they are near to discovering a mythic relic to use against the Black Queen. Meanwhile, the citizens of Eod and the surviving elements of Menos ready their shaky alliance in a last stand against Death and her ghoulish unliving hordes; while King Magnus, Queen Lila, and Erik abandon humanity's last bastion and venture north into a hostile world scoured by shrieking blizzards and walls of ice en route to their own confrontation with the enraged spirit of Winter herself and a historic evil embodied by the monstrous Kinlords.
Across sundry fantastical landscapes, familiar heroes are edging toward individual destinies that even the Sisters Three are unable to fully discern, as Fate continues to weave and reweave its murky tapestry. Nothing is certain except that should the Wolf and the Fawn fail in their looming apocalyptic clash with the mad king himself, all will be lost for the people of Geadhain.
You can find my reviews for the first three books here.
I would like to thank Author Marketing Experts for the opportunity to share these books.
I was given the first two books in the Zaftan Troubles series, Neuromorphs, and Mythicals to review but I ran short of time to get them included in this post. I will get those posted shortly.