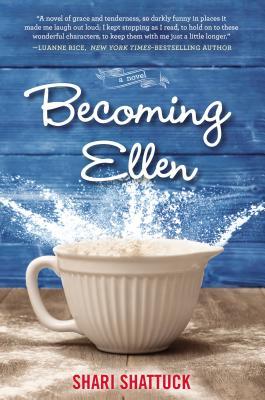 Becoming Ellen by Shari Shattuck
4 stars
(Excerpt from Goodreads) Ellen Homes is done being invisible. Well, sort of.
Living with her closest friends, Temerity and Justice, has helped her step out of the shell of invisibility she once hid away in. She still seeks refuge in solitary time and observing from afar, but she has pushed herself to open up to others in ways that bring her unexpected happiness.
But when a terrible bus crash upends her normal routine, Ellen finds herself on a whirlwind crusade for the unseen and downtrodden. Only this time, helping others—including two young children with no one else to turn to—will mean facing a pain from her past that she's long tucked away.
Picking up where Invisible Ellen left off, Becoming Ellen returns us to the touching, poignant, and compassionate world of Ellen Homes as she learns how to navigate the world she has decided to become a part of.
Ellen is back. In Invisible Ellen we learn about her horrible childhood and how it has scarred her mentally and physically. She is now coming out of her shell with the help of Temerity and Justice and relying less on food than she has in the past. Ellen is still slowly working through her problems.
But when she finds others in need, she can't help but step up and protect and help them. In a bus accident Ellen finds a young girl to protect from the foster system. She also discovers a run away and a co-worker that need her help too. As she is forced to step out of her small comfort zone we also learn more about the abuse she went through in the foster system.
This is a sequel to Invisible Ellen. Although you can read this book by itself, I would recommend you read Invisible Ellen first. You will learn so much more about Ellen and how far she has come. I was so glad to see how far out of her shell Ellen is getting. I loved how she stepped up to help others even though she really wanted to avoid the situation. It did break my heart because you learn more about the abuse she went through as a child.
The problem I had with this story was there were some situations that Ellen and her group were in and it just didn't feel realistic. Now having said that, anything can happen in a book and the truth is always scarier and sadder than fiction. I loved watching Ellen keep fighting and protecting those she cared for.
In the first book we learn about Ellen. In this book you learn about how she is growing and helping others. I'm curious to see where she goes from here.
For more information on Becoming Ellen or to purchase both books make sure to check out Amazon, Barnes and Noble, Goodreads, and Sheri Shattuck's website.
I received this book for free from the publisher in exchange for an honest review.