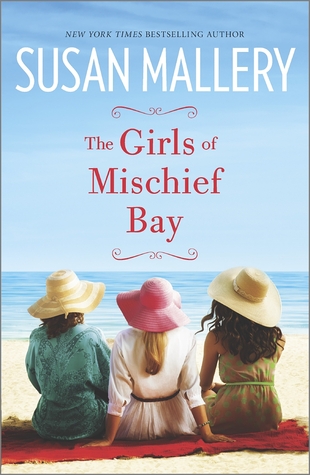 The Girls of Mischief Bay (Mischief Bay – 1) by Susan Mallery
4 stars
(Excerpt from Goodreads) Nicole Lord wants to be a good wife, but there's a difference between being supportive and supporting her husband, who quit his job to write a screenplay she's never seen. He won't even help take care of their son, leaving Nicole to run the house and work full-time at her Mischief Bay Pilates studio. Can she say enough is enough without losing the man she loves?
Sacrificing a personal life for her career is how Shannon Rigg rose to become vice president in her firm, but she wonders now whether she made the right choice. An exciting new relationship with a great guy convinces her that it might not be too late—until he drops a bombshell that has her questioning whether she can have it all. And if she can, does she want it?
Although Pam Eiland has a beautiful house and a husband she adores, she feels… restless. She wonders who a stay-at-home mom becomes after the kids are grown. Finding sexy new ways to surprise her husband brings the heat and the humor back to their marriage, but when unexpected change turns her life upside down, she'll have to redefine herself. Again.
Through romance and heartbreak, laughter and tears, three very different women will discover that friends can become family, and that life is richer with sisters at your side.
This is the story of three women and how they all have different goals in life, have hard times, but are there to help each other. Nicole is in her 30's, has a young son, and her own business. Her husband decides to quit his job, without talking it over with her, to write a screen play. The screen play is a hit and he jumps into fame leaving his family behind. Shannon is a career woman in her early 40's that has decided it's time to settle down and have a family. When she meets someone on an internet dating site things seem to be looking up until his two children come into the picture. And finally there is Pam, she is in her 50's and feeling down about herself so she decides to spice up her relationship. But when things go wrong she is going to have to decide if she wants to keep fighting.
This is not a typical contemporary romance; it's more of a bonding story between three women. They all have their highs and lows but they are there to support each other. I have to say that I felt more for Nicole and Pam. Here Nicole is working hard to support her family and her husband turns into such a jerk. And Pam, I just wanted to cry.
This book is not so much of a feel good, happily ever after story. It's more about the hardships that we face and how we have to have friends there to help us when we are down and cheer us when things are going well. This is a good story and I think many will like it.
I received this book for free from the publisher in exchange for an honest review.
For more information on The Girls of Mischief Bay or Susan Mallery be sure to check out Amazon, Barnes and Noble, Goodreads, and Susan's website.