See You Soon, Afton (Afton Morrison – 2) by Brent Jones
Somebody is watching. Somebody is always watching.
A teenage girl in Wakefield has been abducted, and tracking her down not only tests Afton's moral limits, but threatens her freedom and her life.
Suspected of murder by local police, and under the watch of a menacing figure in the shadows, Afton's search and rescue effort unravels dark secrets from her own past. Familial secrets her mother took to the grave, more than a decade ago.
See You Soon, Afton is the second of four parts in a new serial thriller by author Brent Jones. Packed with grit and action, The Afton Morrison Series delves into a world of moral ambiguity, delivering audiences an unlikely heroine in the form of a disturbed vigilante murderess.
Amazon     Barnes and Noble     Goodreads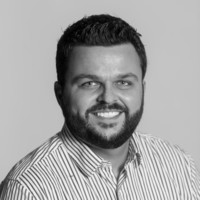 Author's Bio
From bad checks to bathroom graffiti, Brent Jones has always been drawn to writing. He won a national creative writing competition at the age of fourteen, although he can't recall what the story was about. Seventeen years later, he gave up his career to pursue creative writing full-time.
Jones writes from his home in Fort Erie, Canada. He's happily married, a bearded cyclist, a mediocre guitarist, and the proud owner of two dogs with a God complex. Subscribe to his newsletter (AuthorBrentJones.com) or follow him on social media for updates.
My Review
5 stars
Afton has her hands full. The Man in the Shadows killed Kenneth but left a message for her making the police think she is the killer. Then her assistant, Kim has disappeared and she is in The Man's hands. Afton wants to kill him but it comes to light that he has known Afton for a long time and her past is going to come out and bite her.
The more I read about Afton the more I have come to hope she gets to kill someone. But I have to say the reveal about The Man in the Shadow and more turned this story on its head. That ending caught me off guard and I can't wait to see what happens next. I really hope she gets to follow through on her plans.
This is a great series and a super quick read. I do recommend starting at the beginning or you will miss something. Now I can't wait to get my hands on the next one.
I received a complimentary copy of this book. I voluntarily chose to read and post an honest review.
I would like to thank the Brent Jones for the opportunity to read and share his book.