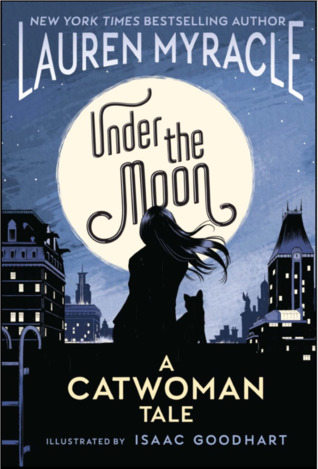 Under the Moon: A Catwoman Tale by Lauren Myracle
When fourteen-year-old Selina Kyle, aka the future Catwoman, becomes homeless, she must confront questions of who she is and who she will become.
She rejects human cruelty, but sometimes it seems as though brute force is the only way to "win." And if Selina is to survive on the streets, she must be tough. Can she find her humanity and reconcile toughness with her desire for community … and love?
From Lauren Myracle, the New York Times best-selling author of books like ttfn and ttyl, comes the story of a teenage Catwoman, as she struggles to find her own identity while living on the streets of Gotham.
Amazon     Barnes and Noble     Goodreads
About the Author
Lauren Myracle is the author of numerous young adult novels. She was born in 1969 in North Carolina. Lauren Myracle holds an MA in English from Colorado State University and an MFA in Writing for Children and Young Adults from Vermont College. she has written many novels, including the famous IM books, ttyl, ttfn, and l8r, g8r.
Her first novel, Kissing Kate, was selected as one of ALA's "Best Books for Young Adults" for the year 2004. It was named by Booklist as one of the "Top Ten Youth Romances" of the year, as well as one of the "Top Ten Books by New Writers." Her middle-grade novel, Eleven, came out 2004, followed by its YA sequels (Twelve, Thirteen, Thirteen Plus One).
My Review
4 stars
Selina Kyle has had a hard life. Her mother does what she can to keep them going but finds herself scumbags that will hang around for a while. Those scumbags are loud, have some kind of addiction, and like to beat on both Selina and her mother. Then one day she saves a kitten and nurses it back to health. But the current boyfriend doesn't like it and solves the problem.
Selina takes this as a sign to stop being weak and leave. She realizes that school just doesn't have the same meaning and even though Bruce Wayne seems to want to help her she is better off on her own. But things are tough until she finds a family. But when she starts to love them something happens again.
I don't know much about the original comic stories of these characters. But I did like this book. I really felt for Selina and understood her choices. She does find a family but it is almost like she is meant to be alone. I thought it was a great introduction to the character.
This is a great graphic novel. I really liked the story and thought Isaac Goodhart did an amazing job with the illustrations. It's definitely one to check out.
I received a complimentary copy of this book. I voluntarily chose to read and post an honest review.
I would like to thank Netgalley for the opportunity to read and share this book.