Deadlands: Boneyard by Seanan McGuire
The newest book based on the hit Weird West RPG franchise Deadlands!
Step right up to see the oddities and marvels of The Blackstone Family Circus and Travelling Wonder Show! Gasp at pit wasps the size of a man's forearm. Beware the pumpkin-headed corn stalker, lest it plant its roots in you!
Annie Pearl is the keeper of oddities, the mistress of monsters. Her unique collection of creatures is one of the circus's star attractions, drawing wide-eyed crowds at every small frontier town they visit. But Annie is also a woman running from her past . . . and the mother of a mute young daughter, Adeline, whom she will do anything to protect.
Hoping to fill its coffers before winter sets in, the circus steers its wagons to The Clearing, a remote community deep in the Oregon wilderness, surrounded by an ominous dark wood. Word is that a traveling show can turn a tidy profit at The Clearing, but there are whispers, too, of unexplained disappearances that afflict one out of every four shows that pass through the town.
The Clearing has it secrets, and so does Annie. And it may take everything she has to save her daughter―and the circus―from both.
A gripping tale of the Weird West, set on the haunted frontier of DEADLANDS, the award-winning game from Pinnacle Entertainment Group.
Amazon     Audible     Barnes and Noble     Goodreads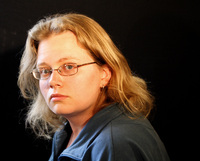 Author's Bio
Seanan McGuire was born in Martinez, California, and raised in a wide variety of locations, most of which boasted some sort of dangerous native wildlife. Despite her almost magnetic attraction to anything venomous, she somehow managed to survive long enough to acquire a typewriter, a reasonable grasp of the English language, and the desire to combine the two. The fact that she wasn't killed for using her typewriter at three o'clock in the morning is probably more impressive than her lack of death by spider-bite.
Often described as a vortex of the surreal, many of Seanan's anecdotes end with things like "and then we got the anti-venom" or "but it's okay, because it turned out the water wasn't that deep." She has yet to be defeated in a game of "Who here was bitten by the strangest thing?," and can be amused for hours by almost anything. "Almost anything" includes swamps, long walks, long walks in swamps, things that live in swamps, horror movies, strange noises, musical theater, reality TV, comic books, finding pennies on the street, and venomous reptiles. Seanan may be the only person on the planet who admits to using Kenneth Muir's Horror Films of the 1980s as a checklist.
Seanan is the author of the October Daye urban fantasies, the InCryptid urban fantasies, and several other works both stand-alone and in trilogies or duologies. In case that wasn't enough, she also writes under the pseudonym "Mira Grant." For details on her work as Mira, check out MiraGrant.com.
In her spare time, Seanan records CDs of her original filk music (see the Albums page for details). She is also a cartoonist, and draws an irregularly posted autobiographical web comic, "With Friends Like These…", as well as generating a truly ridiculous number of art cards. Surprisingly enough, she finds time to take multi-hour walks, blog regularly, watch a sickening amount of television, maintain her website, and go to pretty much any movie with the words "blood," "night," "terror," or "attack" in the title. Most people believe she doesn't sleep.
Seanan lives in an idiosyncratically designed labyrinth in the Pacific Northwest, which she shares with her cats, Alice and Thomas, a vast collection of creepy dolls and horror movies, and sufficient books to qualify her as a fire hazard. She has strongly-held and oft-expressed beliefs about the origins of the Black Death, the X-Men, and the need for chainsaws in daily life.
Years of writing blurbs for convention program books have fixed Seanan in the habit of writing all her bios in the third person, so as to sound marginally less dorky. Stress is on the "marginally." It probably doesn't help that she has so many hobbies.
Seanan was the winner of the 2010 John W. Campbell Award for Best New Writer, and her novel Feed (as Mira Grant) was named as one of Publishers Weekly's Best Books of 2010. In 2013 she became the first person ever to appear five times on the same Hugo Ballot.
My Review
5 stars
Annie Pearl is the keeper of the freaks and oddities. With the help of her seven year old daughter Adeline, they have created a place for themselves in The Blackstone Family Circus and Traveling Wonder Show. This is not an easy life and there are times that Adeline and Annie have gone hungry. But they have found a family that cares for them. But Annie has a past and is on the run from her husband. And after all of these years he gets wind of where she is and goes on the hunt to bring her back home where she belongs.
The Circus season is about to end and The Blackstone Family Circus has had a rough year. But there are rumors that there is a place in Oregon call The Clearing and circuses have been known to make a lot of money from there. There are also stories of others circuses that have never been heard from after going to The Clearing. But they decide to risk it. When they pull into town Annie has a feeling that this is a trap and it is. There is more to The Clearing than they know.
I love the October Daye books, and really need to catch up on them. So, when I saw this story was written by Seanan McGuire I couldn't respond fast enough to review this book. I loved Annie. She was a society girl that got married to a monster. She was so scared for Adeline's life and her own that she takes the girl and runs away from home. Over the years she has grown and become a strong woman. She takes care of all these dangerous creatures and has created a home for Adeline.
I loved The Clearing. It really shows how not everything is as it looks. It's twisted and full of horrible creatures. The townspeople and Michael are about just as evil and they get what they deserve. But the best part was Annie realizing how the circus has become her home and seeing how Adeline is going to be a strong woman with some special talents.
I loved this story. Emily Bauer narrated it and brought it to life. I could easily tell the differences in characters and she was so clear that I had no trouble hearing what was going on. She truly breathed life into this story. I have not heard of the Deadlands series but now I'm really curious to check the rest of the books out. I think I'm going to enjoy them since the first book, Ghostwalkers is written by another favorite author, Jonathan Maberry. I now have another series to add to the shelves.
I received Deadlands: Boneyard from MacMillan Audio for free. This has in no way influenced my opinion of this book.