Legally Yours by Nichole French
is FREE at Amazon until January 7th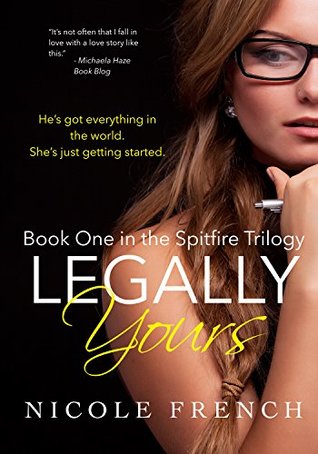 Legally Yours by Nicole French
Skylar Ellen Crosby is a typical redhead: blunt, passionate, with a bit of a temper. Okay, so maybe she's a little neurotic too. She just can't afford to be distracted these days, especially not by the immature boys that keep asking her out. At the end of her third year at Harvard Law, all Skylar wants is to figure out her next steps: ones that will hopefully include a job, an apartment, and enough money to help her father stop getting into trouble. She simply has no room for romance, especially the kind that might break your heart. But on a dark, snowy night, when she's stranded in the living room of the notorious CEO of Sterling Ventures and one of the best attorneys in Boston, all of those boundaries are about to be knocked down.
Brandon Sterling never believed in fate. A man of his own making, he firmly credits his successes to hard work. How else could you explain his rise from the poorest of backgrounds in South Boston to becoming one of the most successful entrepreneurs in Boston? Living in the lap of luxury, it never mattered to him that increasing success meant increased isolation in his big house on Beacon Street. After all, when you have everything, everyone else always wants something. That he walks in to find a gorgeous redhead sitting on his windowsill. Suddenly, the idea of love at first sight seems like the most plausible thing in the world…if only the one person he wants to give his heart to would actually take it.
Together, Skylar and Brandon have the kind of passion few hope to find, but things keep getting in their way. Between school, business, her father's gambling troubles and Brandon's history of personal struggle, will their complicated lives prevent them from making it work together? Or, as they both suspect somewhere deep down, have they finally met their match in each other's hearts?
Author's Bio
Nicole French is a East Coast/West Coast hybrid creature, Springsteen fanatic, hopeless romantic, and total bookworm. When not writing fiction or teaching writing classes, she is hanging out with her family, playing soccer with the rest of the thirty-plus crowd in Seattle, or going on dates with her husband. In her spare time, she likes to go running with her dog, Greta, or practice the piano, but never seems to do either one of these things as much as she should.